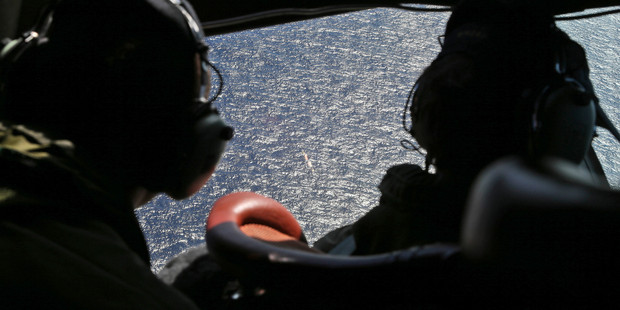 Planes, ships and two submersible sound locators were sent yesterday to again scour a remote patch of the Indian Ocean in the increasingly urgent hunt for the Malaysia Airlines jet that vanished four weeks ago.
A multinational team is trying to find debris floating in the water or faint sound signals from the plane's flight recorders that could lead them to the aircraft and help unravel the mystery of its fate.
Beacons in the black boxes emit "pings" so they can be more easily found, but the batteries only last about a month. And officials say that the more time that passes before any floating wreckage is found, the harder it will be to find the plane itself.
The recorders could help investigators determine why Flight 370 disappeared on March 8 while en route from Kuala Lumpur to Beijing with 239 people aboard.
Two ships with sophisticated equipment that can hear the recorders' pings were used for the first time on Friday along a 240km route investigators hope may be close to the spot where the plane went down.
Those ships, the Australian navy's Ocean Shield and the British HMS Echo, were back in the search area yesterday, with up to 13 military and civilian planes and nine other ships.
The weather in the area, which has regularly hampered crews trying to spot debris, was fair with some rain expected.
Because the US Navy's pinger locator can pick up signals to a depth of 6100m it should be able to hear the plane's data recorders even if they are in the deepest part of the search zone about 5800m. But that's only if the locator gets within range of the black boxes - a tough task, given the size of the search area and the fact that the pinger locator must be dragged through the water at less than 10km/h. The time when the locator beacons shut down must be approaching.
- AP