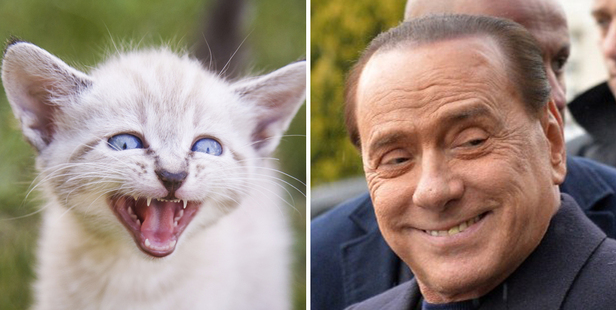 As his decline and fall continues apace, disgraced ex-Premier Silvio Berlusconi has concocted another cause close to his heart with which to win back votes for his moribund Forza Italia Party.
The media mogul thinks that being kind to animals will provide the party with the boost it needs in the May European Elections.
"We must strive to find a 'father' or 'mother' for the thousands of abandoned animals. Dogs and cats will help us to win the European elections," Mr Berlusconi reportedly said in a phone call to one of the his fan clubs, the Rome-based Forza Silvio (Go on Silvio).
The tycoon said that his mass animal adoption scheme would mean "more than 10 million Italians who have a dog or cat will look on us with fondness, which will help the moderates become a strong political force, a majority," he said.
Never one to do things by halves, Mr Berlusconi even cited Mother Teresa's thoughts on animal welfare, saying "if we learn to love them as they deserve, we will be very close to God".
The pet adoption plans come as a poll carried out for Rai 3 television at the weekend showed Forza Italia had slipped into third place behind the centre-left Democratic Party and the anti-establishment Five Star Movement.
With Mr Berlusconi no longer to sit in parliament thanks to his definitive tax fraud conviction, Forza Italia appears to be struggling as Berlusconi loyalists fight it out with more pragmatic figures to determine the future of the party.
Adding to his woes, judges in Milan will in the next few weeks decide where Mr Berlusconi does his 12-month community service, as punishment for tax evasion. He is also on trial for bribing a pimp and drug dealer, and has the Rubygate appeal to prepare for.
So far, animal rights campaigners are unimpressed by the initiative. The Italian Association for the Defence of Animals and the Environment claimed that Mr Berlusconi had understated the problem of unwanted pets in Italy.
It said there were another 750,000 dogs living wild, in addition to the 150,000 languishing in kennels.
"We need concrete measures. Mr Berlusconi could come and do some dog sitting for us," the association told La Stampa, thereby renewing its offer for the mogul to serve out his community service with them.
- THE INDEPENDENT