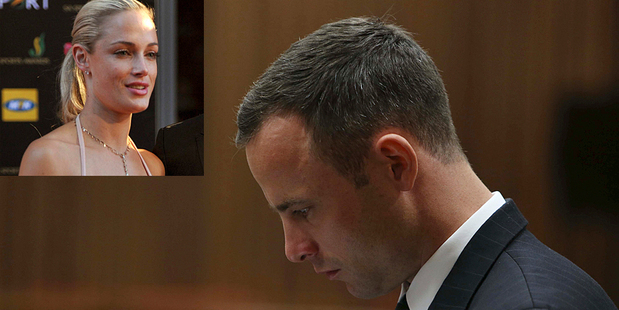 Reeva Steenkamp sent Oscar Pistorius a photo of her blowing a kiss to the athlete just a month before her death, it was revealed at her murder trial today.
The photo message was presented as evidence by a South African police expert who accessed messages between the couple.
In the image the 29-year-old blonde model is pictured wearing a hooded sweater that was presumably a gift from the athlete. After she sent the image he replied: 'You like it? to which she wrote: "I love it. Thank u. Xxx."
Both Pistorius and Steenkamp's mother June looked visibly distressed and wept as messages between the couple were read aloud to the Pretoria court.
The prosecution finished presenting their case today and the court was adjourned until Friday when the defence will begin - Pistorius broke his silence as he left court telling reporters: "Its a tough time.
We've got a lot of stuff ahead of us."
Today Pistorius' chief lawyer sought to show the athlete had a loving relationship with the girlfriend he killed, referring to telephone messages in which they exchanged warm compliments and said they missed each other.
Among them were chat messages from Steenkamp in which she called her boyfriend pet names including Baba, angel, baby and and rockstar and he told her "Good luck for your meeting Beautiful".

A selfie taken by Steenkamp and sent to Pistorius was shown to the court.

In one exchange, she asks Pistorius' advice on whether she should wear a leopard print dress and he replies, "Ja I love that and you look amazing in it".
Read more:
• Texts show Steenkamp was 'scared'
• Expert: Screams give Pistorius a 'major problem'
In a message sent the day before she died she wrote: "I know Warren (Lahoud her ex-boyfriend) wanted to have coffee... I can see him another day" to which the athlete replied: "I have a dentist appointment, maybe go see him and come see me when I'm done."
The testimony contrasted with several messages read out in court at the request of the prosecution a day earlier in which Pistorius, 27, and Steenkamp argued in the weeks before he fatally shot her.
In those messages, Steenkamp told the double-amputee runner that she was sometimes scared by his behavior, when 'you snap at me.'
Watch: Pistorius - He sometimes scared her

But defence lawyer Barry Roux highlighted today that affectionate messages resumed on the same day and noted that the tense messages amounted to a tiny fraction of the roughly 1,700 messages that police Capt. Francois Moller, a cellular telephone expert, extracted from the mobile devices of the couple.
Roux was granted permission to show CCTV video, earlier broadcast by Sky News, that showed Pistorius and Steenkamp kissing in a convenience store.
And he asked Moller to read out a January 9 message from the model to her athlete boyfriend that read: 'You are a very special person. You deserve to be looked after.'
Chief prosecutor Gerrie Nel questioned the relevance of showing the convenience store video, saying he could ask for a courtroom viewing of another video, also broadcast by Sky News, that shows Pistorius at a gun range, firing a shotgun and using a pistol to shoot a watermelon, which bursts on impact.
Nel also said that many messages of affection between the couple were brief, in contrast to the texted arguments, which were far longer and dwelled on their relationship in greater depth.
Steenkamp went online before shooting
Earlier, Moller said Steenkamp connected to the Internet on her cellular telephone hours before Pistorius killed her.
She made the connection just before 9pm on February 13, 2013, and the connection lasted for more than 11 hours, possibly because social media programmess were still open. Pistorius fatally shot her shortly after 3am through a closed toilet door in his home.
"'If an application is not closed, it will carry on running," Moller said.
Pistorius fatally shot Steenkamp in his home the early hours of Valentine's Day, and Moller's extraction of data also shed light on what appeared to be a frantic series of phone calls made from one of Pistorius' mobile phones after the killing.
Watch: Pistorius - Girlfriend's dying moments

They include a call to the estate manager Johan Stander administrator of the housing estate where Pistorius lived at 3:19am on February 14.
Then a minute later he called the ambulance service and estate security, and his voice mail service - the voice mail call lasted seven seconds was likely an accident, Moller said.
Pistorius then received a call from security, before calling his best friend Justin Divaris and his brother, Carl, the police officer said.
The phone that was used for those and other calls was only handed over to police 11 days later, Moller said.
Police analysis also showed that a five-minute Internet connection was made on Pistorius' telephone from 1:48am on February 14, a little over an hour before he killed Steenkamp.
Moller did not specify whether the connection was manual or automatic.
Moller said he received as evidence two BlackBerry phones, two iPhones, two iPads and a Mac computer from Pistorius' house the day after Steenkamp was shot to death.
Yesterday Pistorius was in again tears as the messages were read aloud in the court - one of them from the model to the athlete read: "I'm scared of you sometimes and how you snap at me," while a later text read "I can't be attacked by outsider for dating u and be attacked by you the person I deserve protection from."
More evidence of terrified screams
Pistorius's murder trial entered its fourth week yesterday with more testimony on gunshots and a woman's terrified screams on the night the star Paralympian shot dead his glamorous girlfriend.
Anette Stipp, a neighbour and one of the prosecution's last witnesses, said she heard shots, then a woman screaming, then more gunshots in the early morning hours on Valentine's Day last year.
"I heard three, which sounded to me like gunshots," said Stipp. "It was moments after the shots I heard a lady screaming. Terrified, terrified screaming."
Prosecutors said they will finish presenting their case of premeditated murder against Pistorius early this week, when the defence will start calling their witnesses.
The trial is already running over schedule and may now last until May 16, with a short court recess in April, the justice department said Sunday.

Oscar Pistorius leaves the high court in Pretoria, South Africa. Photo / AP
Together with testimony of earlier witnesses, occupational therapist Stipp's evidence contradicts the 27-year-old sprinting star's account that he shot Steenkamp, a model and aspiring TV actress, having mistaken her for an intruder.
Defence has argued that the shots that killed 29-year-old Steenkamp came too fast for her to scream out and alert her boyfriend that it was her in the toilet.
The defence has also said the screaming was not Steenkamp, but actually Pistorius who screams "like a woman" when he is anxious.
Stipp testified on Monday that "after the first set of shots there was definitely a female screaming for a period" and "just before the second set of shots there was a male screaming, then after the shots it went quiet."
The lights in Pistorius's house were switched on and his bathroom window was open, she told the court.
Pistorius, who has frequently cried throughout the court proceedings, maintained his composure as Stipp gave her testimony.
Stipp's radiologist husband Johan testified earlier that he found the Paralympian on the scene trying to resuscitate Sttenkamp's lifeless body on February 14, 2013.
June Steenkamp, the model's mother, sat in the courtroom supported by members of the women's league of South Africa's ruling ANC.
- Daily Mail, AFP