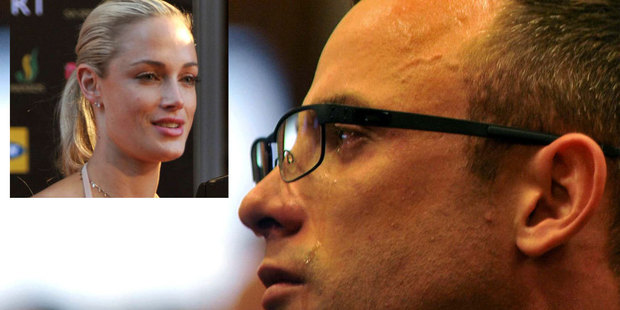 Text messages between Oscar Pistorius and girlfriend Reeva Steenkamp revealed in court painted a picture of a jealous man who "snapped" at her and often accused the model of flirting with other men, his murder trial heard.
In a Whatsapp conversation sent on 27 January 2013, Ms Steenkamp wrote: "I'm scared of you sometimes and how you snap at me."
The model also wrote she felt "picked on" and "attacked" by the one person she "deserved protection from"- referring to the athlete- and was upset by his jealous tantrums.
Ms Steenkamp also wrote she was trying "her best" to make him happy but felt he "didn't treat her like a lady" and recalled an incident where he "criticised" her so "loudly everyone" could hear it.
The model and law graduate said she tried to make him "proud" and present herself "well" while he was busy chatting to friends and fans at social events.
In a separate incident, the athlete accused her of chatting to a man, "touching his arm" and ignoring him. Pistorius sobbed in court as the messages were read out.
One of the messages from Pistorius to Ms Steenkamp appears to refer to a shooting incident at a restaurant where the athlete asked a friend, Darren Fresco, to take the blame after his gun went off in public.
A text message from Reeva Steenkmap to Pistorius where the model insists she wants to make him proud and happy but she is being "attacked" by the person who should be protecting her He wrote: "Angel, please don't say a thing to any one, Darren told everyone it was his fault. I can't afford for that to come out. The guys promised not to say a thing."
Read more:
• Questions Pistorius must answer
• Expert: Screams give Pistorius a major problem
• Pistorius trial: Bullets hit hip, then head
Ms Steenkamp replied: "I don't know what you're talking about :) But thank you for telling me, I appreciate it."
In an argument over alleged drug use, Pistorius wrote: "It was just when you got back from Tropica (a reality show filmed in Jamaica, where Ms Steenkamp took part) you made it sound like you had only smoked weed once."
Ms Steenkamp replied: "I'm just very honest. I won't always think before I say something. Just appreciate I'm not a liar."
She also wrote: "I've never been a stripper or a ho."
Captain Francois Moller said he was able to access some 35,000 pages worth of messages between the couple, and 90 per cent of them were loving.
Whatsapp message from Pistorius to Reeva Steenkamp where he accused her of "touching a man's arm" and ignoring him. Earlier, a neighbour of Pistorius told Pretoria's High Court she heard the "terrified" screams of a woman at around 3am on Valentine's Day last year.
Anette Stipp told the court: "The screaming at that stage just continued. There was definitely a female screaming for quite a period. You could definitely hear two different voices.
"I said to my husband it sounds like a family murder. Otherwise why would a woman scream like that? She sounds terrified."
She then heard a second set of gun shots, and the screaming stopped.
Mrs Stipp also told the court she saw the lights were on in the bathroom where the model was shot from her balcony in the gated Silver Woods estate.
This appears contradicts the athlete's version of events, claiming the couple went to bed at around 10pm and the room was completely dark, and matches the testimony of previous witnesses who also heard screaming, including her husband.
The athlete's defence argues Pistorius fired through the locked toilet door first and later used a cricket bat to smash it down after he realised Ms Steenkamp was inside.
His defence insists neighbours mistook the sound of the cricket bat for gunshots.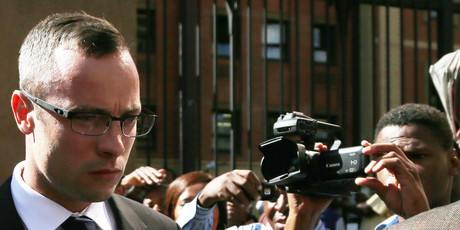 On Sunday, the court in Guateng province confirmed the trial, which is entering its fourth week, will now run until mid-May after both parties agreed to an extension.
Chief prosecutor Gerrie Nel is expected to wrap up his case this coming week, calling several new witnesses to the stand.
On Thursday, Pistorius announced plans to sell his Pretoria mansion where Ms Steenkamp was shot on Valentine's Day last year to cover the spiralling legal costs of the trial.
Pistorius denied murdering Ms Steenkamp, claiming he shot her in a case of mistaken identity thinking she was an intruder.
Prosecutors argue he intentionally shot and killed his girlfriend following a domestic dispute. If convicted of murder he will almost certainly receive a life sentence, with a minimum term of 25 years in prison.
The case continues.
- UK Independent
Read the full messages below:
January 19
Steenkamp: There are a lot of things that could make us feel like s---.
Pistorius: I'm just very honest.
Steenkamp: I won't always think before I say something, just appreciate I'm not a liar.
Pistorius: I know, it was just when you got back from Tropica [a reality TV show filmed in Jamaica, in which Steenkamp took part] you made it seem like you smoked weed once. I don't know if you took other things.
Steenkamp: I'm sorry if it upset you, it wasn't my intention
Pistorius: I do appreciate it, I could never be with someone who was [a liar].
Steenkamp: Me neither.
January 27
Steenkamp: Today was one of my best friend's engagements and I wanted to stay longer. I was enjoying myself but it's over now. You have picked on me incessantly since you got back from CT [Cape Town] and I understand that you are sick but it's nasty. I was not flirting with anyone today. I feel sick that u suggested that and that u made a scene at the table and made us leave early. I'm terribly disappointed in how the day ended and how u left me. We are living in a double standard relationship where u can be mad about how I deal with stuff when u are very quick to act cold and offish when you're unhappy. Every 5 seconds I hear how u dated another chick... yet you get upset if I tell ONE funny story with a long term boyfriend. I do everything to make u happy and to not say anything to rock the boat with u. You do everything to throw tantrums in front of people... I can't get that day back. I'm scared of u sometimes and how u snap at me and of how u will react to me. You make me happy 90% of the time and I think we are amazing together but I am not some other bitch you may know trying to kill your vibe. I am the girl who let go with u even when I was scared out of my mind to, I'm the girl who fell in love with u and wanted to tell u this weekend. But I'm also the girl that gets side stepped when you are in a s--- mood. When I feel you think u have me so why try anymore. I get snapped at and told my accents and voices are annoying. I touch your neck to show u I care you tell me to stop. Stop chewing gum. Do this don't do that. Your impression of something innocent blown out of proportion... f----- up a special day for me. I'm sorry if you truly felt I was hitting on my friend Sam's husband and I'm sorry that u think that little of me. From the outside I think it looks like we are a struggle and maybe that's what we are. I just want to love and be loved. Be happy and make someone SO happy. Maybe we can't do that for each other. Cos right now I know u aren't happy and I am certainly very unhappy and sad.
January 27
Pistorius: I want to talk to you, I want to sort this out. I don't want to have anything less than amazing for you and I'm sorry for the things I say without thinking and for taking offence to some of your actions. The fact that I'm tired and sick isn't an excuse. I was upset that you just left me after we got food to go talk to a guy and I was standing tight behind you watching you touch his arm and ignore me... when I left you just kept on chatting to him when clearly I was upset... When we left I was starving, the only food I'd had was a tiny wrap and everyone was leaving for lunch, I'm sorry I wanted to go but I was hungry and upset and although you knew it it wasn't like you came to chat to me when I left the table. I was upset when I left you cause I thought you were coming to me. I'm sorry I asked you to stop tapping my neck yesterday, I know you were just trying to show me love... I had a mad headache and should've just spoken to you softly. I'm sorry for asking you not to put on an accent last night. Pretty much the same and I didn't have the energy.
February 7
Steenkamp: I like to believe that I make u proud when I attend these kinds of functions with u. I present myself well and can converse with others whilst u are off busy chatting to fans/friends.
I also knew people there tonight and whilst u were having one or 2 pics taken I was saying goodbye to people in my industry... I completely understood your desperation to leave and thought I would be helping u by getting to the exit before u because I can't rush in the heels I was wearing. I thought it would make a difference in us getting out without u being harassed. I didn't think you would criticize me for doing that especially not so loudly so that others could hear. I might... be all Tomboyish at times but I regard myself as a lady and I didn't feel like one tonight after the way u treated me when we left. I'm a person too and I appreciate that u invited me out tonight and I realise that u get harassed but I am trying my best to make u happy and I feel as tho u sometimes never are no matter the effort I put in. I can't be attacked by outsiders for dating u AND be attacked by you, the one person I deserve protection from.
- The Daily Telegraph