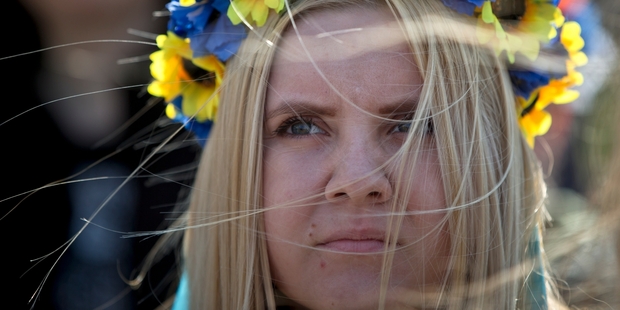 Russian President Vladimir Putin's Crimean gamble will face its biggest test tonight, when the European Union and the United States ready sanctions to punish him for a land-grab that has caused jitters across eastern Europe.
A day after a "referendum" in Crimea on joining Russia, and amid Ukrainian warnings of Russian military encroachment, EU foreign ministers will debate a graduated strategy aimed at whacking Russia's political and economic elite and sapping the country's financial health.
On the table are travel bans and asset freezes against some 30 Russian and Ukrainians officials held responsible for threatening Ukraine's territorial integrity. If Russia still refuses to talk, the step-by-step strategy would eventually start to hit trade, worth a massive 335 billion ($546 billion) annually.
"The name of the game is about perceptions of the risks for Russia in the event of more important sanctions, such as Russia losing access to international financial markets, a collapsing exchange rate and stock market and uncertainty about the future of European recourse to Russian gas supplies," said Michael Emerson, an expert at the Centre for European Policy Studies in Brussels.
As the world's biggest trade bloc, comprising half a billion people, the EU has tremendous political and economic clout.
But most of this is only potential, not actual. The EU has 28 member states, each of them mindful of national interests so reaching consensus is long and slow, and often based on the lowest common denominator.
But diplomats in Brussels say that the Crimean seizure has been so brazen that the resolve to hit Russia and help Ukraine has hardened fast.
Reflecting the tougher mood, Austria last week arrested a pro-Moscow Ukrainian oligarch, Dmytro Firtash, in the first step towards a possible extradition to the United States to face corruption charges. Furious at Putin's stonewalling, German Chancellor Angela Merkel warned the crisis could "massively damage Russia both economically and politically". Britain seems to have edged closer to accepting asset freezes, despite concerns about the effect on London. Foreign Secretary William Hague is demanding that the EU meeting forge "a firm and united response".
Crimea for centuries was owned by Russia until it was ceded to the Ukraine in 1954 in a reshuffle within the Soviet Union. After the collapse of the USSR in 1991, Ukraine became an independent state but agreed that Russia could maintain a naval base in the Crimea. The region's three million people are mostly ethnic Russians.
The row over its future has brought East-West relations to their tensest point since 1989 - the year when Soviet satellite countries slipped one by one from Moscow's control. Some commentators have drawn parallels with Hitler's seizure of the Sudetenland in Czechoslovakia in 1938; Russia itself says the Crimea is critical to its interests.
Diplomatically, Russia finds itself more and more isolated. Last-ditch US-Russian talks ahead of today's vote in Crimea led nowhere. A UN Security Council resolution that described the referendum as illegal was vetoed by Russia. According to the German news weekly Der Spiegel, Russia is moving closer to being kicked out of the G8. Plans are afoot for the group, minus Russia, to meet in London in June rather than Sochi, the scheduled venue. The Paris-based Organisation for Economic Co-operation and Development - the 34-nation club of advanced economies - said it was suspending membership talks with Russia but boosting links with Ukraine.
The prospect of armed conflict, deemed remote just a fortnight ago, is getting larger, fuelled by clashes between pro-Moscow and pro-Kiev demonstrators in eastern Ukraine. Ukraine said yesterday that Russian troops had seized a village off the northeastern edge of the Crimean Peninsula and warned it "reserves the right to use all necessary measures to stop the military invasion".
"The current situation in Europe shows that unfortunately a military conflict, previously considered unthinkable, could happen," Polish Defence Minister Tomasz Siemoniak said, as his country joined the Czech Republic, Hungary and Slovakia to create a joint combat unit, operating under Nato and EU auspices.
Putin's Achilles' heel is Russia's economy, which is in decline and depends on oil and gas for two-thirds of its revenue as well as inflows of foreign funds.
After the military incursion in Crimea, Russian stock values lost 12 per cent and the ruble plunged to a record low against the US dollar and euro. The central bank hiked its main interest rate and sold rubles worth between US$10 and US$12 billion. They recovered some ground in the following days, only to drop again as the referendum loomed.
On the face of it, trade would be an obvious target for Europe - but one with a risk. Fifteen per cent of Russia's economic activity depends on exports to the EU, while just 1 per cent of the EU's GDP depends on purchases from Russia. But this 1 per cent includes Russian gas, which supplies a quarter of the EU's needs; some eastern members are 100 per cent dependent. If Russia turns off the gas, is Europe willing to take the strain?
"The sanctions themselves, and retaliatory measures by Russia, will also entail costs for Europe, and to some extent the United States," cautioned Keir Giles of the Chatham House think-tank in London. "But these costs should be seen as a down payment on the future investment required to understand, manage and resist Russia. An investment in foreseeing and forestalling Russia's next unacceptable act of force is an investment in the future security of Europe."