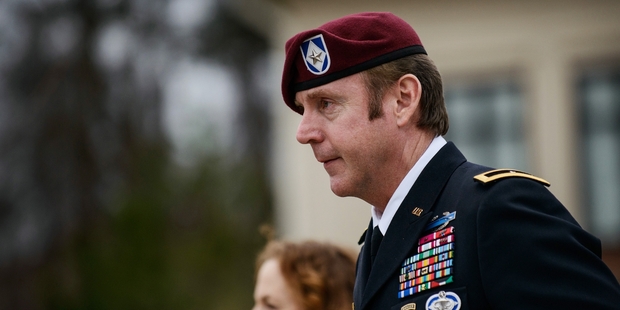 It sounds like the scenario for a particularly lurid Hollywood thriller: an elite United States Army soldier, previously second-in-command of the famed 82nd Airborne Division, charged with sexually assaulting a junior officer, who told a court last week the accused threatened to kill her family if she went public.
The prosecution at a military trial held in Fort Bragg, North Carolina, contends Brigadier General Jeffrey Sinclair, 51, forced an unnamed captain, with whom he admits an affair, to perform sexual acts.
"He told me that if I ever told her [the accused's wife] or anyone else about he and I, he would kill me and then he would kill my family," the sobbing accuser, 34, told the court. She admitted to a three-year affair - adultery is illegal under US military law - but said she thought Sinclair's wife knew.
Sinclair's liaison effectively ends his career. But he has denied sexual assault, which could bring life imprisonment. He says he tried to end a consensual affair (in an extrajudicial twist, Sinclair's wife told CBS tv the affair was consensual), but argues that his accuser was infatuated.
Excerpts from her diary, read to the court by the defence, said, "I love him almost unconditionally".
The case comes at a challenging time for the Pentagon. Last week, the US Senate voted against the Military Justice Improvement Act. The bipartisan bill, sponsored by Senator Kirsten Gillibrand, was designed to reform how the military deals with sexual assault cases. It failed to pass by five votes.
The bill proposed changes to the Military Code of Justice, whereby the decision on whether to prosecute would be divorced from the chain of command and handed to military lawyers from the Judge Advocates General Corps (JAG). The Pentagon opposed the bill, worrying military effectiveness would erode if commanders could not discipline lower ranks. Gillibrand, who sits on the Senate Armed Services Committee, said victims have lost faith in the judicial process.
"The primary issue Senator Gillibrand's bill addressed was the role of the convening authority - typically the senior commander - in making the ultimate decision on whether to initiate a criminal prosecution or other administrative sanctions against a soldier for misconduct," explains Victor Hansen, a former JAG attorney, now law professor at New England Law in Boston.
Commanders are legally required to listen to advice from JAG attorneys - who actually prosecute - but can disregard this if they chose.
The world's most powerful military has struggled to cope with an influx of women, almost 15 per cent of a total of 1.4 million active personnel.
"Even though [the bill] was defeated, a majority of the Senate expressed a lack of confidence in our ability to solve this ourselves," General Martin Dempsey, Joint Chiefs of Staff head, told PBS. "We are currently on the clock. The President said to us in December, 'You know what? You have got about a year to review this thing and show me you can make a difference."'
Gillibrand's bill is expected to be resurrected late this year. "The bill lets commanders command and it lets lawyers lawyer," says Greg Jacob a former US Marine Corps commander, now policy director with Service Women's Action Network (SWAN), which supports reform.
As for Pentagon fears the bill undermines a commander's authority and discipline, Jacobs says action reports and military justice reports from Afghanistan and Iraq show there were no courts martial in Afghanistan from 2001 to 2004 and none in Iraq for the first 18 months of combat.
"They had no convening authorities over there. Three divisions - the 101st Airborne, the 82nd Airborne and the 3rd Infantry - stripped their commanders of convening authority before they went overseas." Jacobs argues convening authority was seen as a distraction from combat.
Although Sinclair is believed to be the highest-ranking US military officer tried for sexual assault he is not alone.
Last week, Lt Col Joseph Morse, the lead US Army prosecutor in sexual assault cases, was suspended following allegations in Stars and Stripes, a newspaper published by the US Defence Department, he had assaulted an unnamed lawyer under his command.
According to Stars and Stripes Morse tried to "kiss and grope her against her will" at a hotel when the pair attended a 2011 conference on sexual assault. The Army said it was investigating but, as yet, no charges have been laid.
Morse was the prosecutor in the case against Staff Sgt Robert Bales, convicted last year of murdering 16 Afghan civilians in a 2012 rampage.
Reformers see such incidents as the tip of an iceberg, part of a predatory male culture, little changed since the 1991 Tailhook scandal, when US Navy and Marine officers allegedly assaulted scores of enlisted women and a handful of men at a Las Vegas aviators' convention.
The Defence Department counts 26,000 sexual assaults in 2012. "Military women are more likely to be raped by a fellow soldier than killed by enemy fire," claims the Oscar-nominated documentary, The Invisible War. The film says more than 500,000 sexual assaults have occurred in the past 25 years.
Eighty-five per cent of US military sex crimes go unreported. Jacobs cites two systemic failures that perpetuate the problem.
Pentagon surveys on sexual assault victims found about half kept quiet because they feared retaliation or felt they would be denied justice.
At the same time most women are excluded from forward combat roles - this changes in 2016 - creating a "two-tier" system where men see women as second-class soldiers.
The Military Rape Crisis Centre's "My Duty to Speak" blog reveals many victims - more than half were men in 2012 - are made to feel at fault.
In Fort Bragg, Sinclair's case was adjourned this week after the judge ruled new evidence suggested "unlawful command influence" had harmed due process. As men's rights groups championed Sinclair amid growing acrimony, the jury was dismissed while both sides try to reach a plea deal.