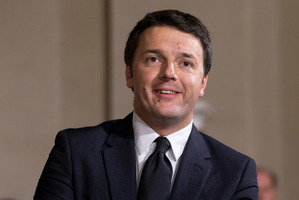 "What do I think of Matteo Renzi? I don't trust his face," said Danielle Barrese, 23, a trainee chef from Calabria. "And I don't trust any promises made to young people in this country."
Renzi, who triggered a generational shift in Italian politics over the weekend when, aged just 39, he became Italy's youngest Prime Minister, has made bold promises to give work back to the country's acutely underemployed youth.
But the wunderkind of Italian politics, who rode his staggering popularity to office, was drawing sneers and yawns from young people in Italy's black hole of joblessness, Reggio Calabria, in the tip of the country's toe.
"They have been promising us the earth since 1994 and now it's just the rest of the world which is left laughing - at us," said Salvatore Crucitti, 23, a conservatoire-trained musician who, like Barrese, wants to emigrate.
After trading his job as Mayor of Florence, Renzi has promised a rapid-fire programme of reforms to lift the economy after he took the top job by ousting Democratic Party colleague Enrico Letta. He has made a bold start, announcing that half the members of his first Cabinet would be women. But the bike-riding, smooth-talking Renzi has his work cut out.
The predicament of Italy's lost generation is dire. With more than 372,000 firms closing in 2013, the number of 15- to 24-year-olds out of work has risen to 41.6 per cent. And, unlike their parents, who often enjoyed jobs for life, 90 per cent of those who land jobs today are offered temporary contracts.
Renzi faces one of his toughest tests in Reggio Calabria, where youth unemployment has rocketed to 68 per cent from 45 per cent a year ago.
"There has been a big increase in the number of middle-class people coming through the office," said Valeria Bonforte, an official with the CGIL union, which helps people to register as unemployed.
In the 1960s, when she was three, Bonforte's family emigrated to the US to run a pizzeria in New Jersey, only to return to Reggio Calabria when she was 12.
"My father wanted us kids to grow up in Italy, but every day I think of leaving and how it would have been better to stay in the US," she said.
Her daughter, Ivana Calabro, 26, is due to graduate this year with an economics degree. She has been working her way through university as a children's entertainer and in a call centre, where her contract is renewed monthly and a full month's work gives her a take-home wage of 500 ($830).
"There is nothing here and we should leave," she said at a cafe on Reggio Calabria's main street.
Sitting beside her, her boyfriend, Gregorio Fotia, 27, reeled off the list of part-time jobs he had before becoming unemployed in 2012: barman, labourer, trumpet player, pizza-maker.
Living at home, Fotia survives thanks to the pension received by his father, a retired railway worker.
"Ivana and I have been together for 10 years, but we just can't afford to marry."
If they manage to emigrate, the couple will join an exodus from Italy, rivalling the great waves of emigration in the last century, which has left 500,000 Italians living abroad as clandestine migrants, according to newspaper La Repubblica.
- Observer