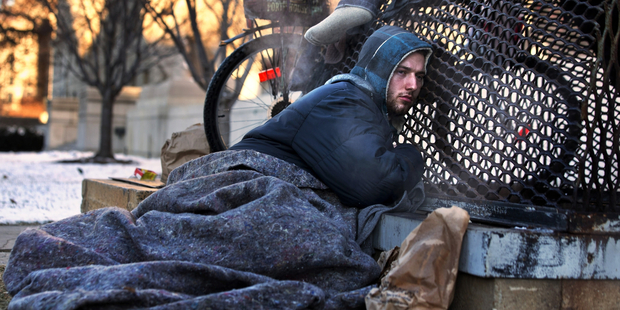 Nicholas Simmons disappeared from his parents' house in a small upstate New York town on New Year's Day, leaving behind his wallet, cellphone and everything else.
Four days later, an Associated Press photographer, looking for a way to illustrate unusually cold weather, snapped his picture as he warmed himself on a steam grate a few blocks from the US Capitol.
Paul and Michelle Simmons saw the AP photograph in USA Today on Sunday morning after it was brought to their attention through a Facebook page set up to help find their 20-year-old son, according to police and family friends.
The photo, taken Saturday by AP photographer Jacquelyn Martin, showed Simmons with his unshaven face pressed against a grate outside the Federal Trade Commission. He wore a ski jacket and a hood over his head. A thick gray blanket covered his lower body.
Martin was assigned to the White House that weekend, but with President Barack Obama still on vacation in Hawaii, she spent the day looking for shots that would illustrate the cold weather.
That is how she found Nick Simmons, in an area where homeless people often gather when it is frigid outside. She found a cluster of men huddled around the grate, introduced herself and started taking pictures.
Then she noticed one person in particular, huddled under a blanket.
"It struck me how young he was," Martin said. "I again introduced myself and shook his hand. He said his name was Nick."
Martin finished shooting, sent the pictures to the wire and called it a day. The next day, she received a message via Twitter from USA Today.
The newspaper had run the photo of Nick and was contacting Martin to tell her that Nick's family had recognized him and was trying to locate him. Michelle Simmons was certain that the young man in the photograph was her son, missing for four days.
@ndiblasio Thank you for contacting me I am in touch with the family now.

— Jacquelyn Martin (@Jacquelyn_M) January 5, 2014
Police picked Simmons up Sunday afternoon and took him to a hospital, said police Capt. Patrick Phelan. Simmons' father, Paul, and older brother Paul Jr. arrived in Washington Sunday night and were reunited with Simmons at the hospital, said longtime family friends Peter and Cindy Gugino.
Martin, the AP photographer, said the episode serves as a reminder to journalists that every person they encounter has a story to tell.
"It's really gratifying to see that a photograph can make a tangible difference in someone's life. That's a really amazing thing to have happened," she said. "I'm happy and touched that the photograph could help reunite this family."
Police said authorities notified local media and tried to investigate the case, but there were no leads until the publication of the photo.
"It was pure dumb luck how all this happened," said Sgt. David Mancuso, the lead investigator. "It's truly a miracle."
Mrs Simmons reportedly provided an update on Nick's condition before taking down a Facebook page aimed at tracking him down.
"Nick is alive but obviously not well..we are going to get him home and safe and this is by far the greatest example of God's love and divine intervention I have ever experienced. I am relieved but still distraught by everything but HE IS ALIVE and his family will get him home, loved and cared for..and healthy again. I am beyond able to put into words how I am feeling," she said.
- AP, nzherald.co.nz