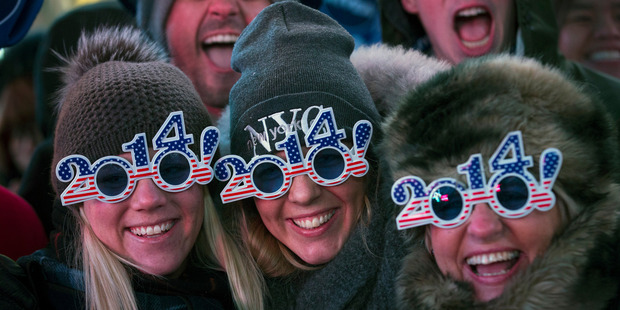 Crowds jammed Times Square in New York to ring in 2014, braving bone-chilling cold and ultra-tight security for the chance to see Miley Cyrus, a final countdown from US Supreme Court Justice Sonia Sotomayor and the drop of the shimmering crystal ball atop the old New York Times building .
The sea of horn-tooting, hat-wearing humanity that filled the Crossroads of the World was there for an event that's part celebration, part endurance sport as post-September 11 security measures force spectators into pens at least 12 hours before with no food, no warmth and no place to go to the toilet.
"We've got adult [nappies]. We're wearing them right now," said teenager Amber Woods, who came with friends from the New York suburbs.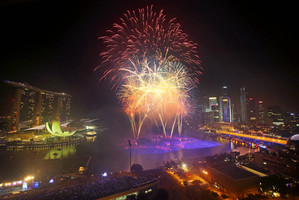 Millions welcomed the new year in cities around the world, including at jubilant events in London, where the fireworks came packed with edible confetti, and Dubai, which tried to stage the world's largest fireworks display.
London's Mayor, Boris Johnson, said this year's explosive display was packed with peach-flavoured snow, edible banana confetti and orange-scented bubbles. The evening also included scratch-and-sniff programmes, LED wristbands and fruit-flavoured lollies.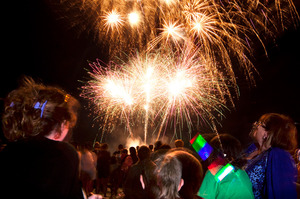 The Dubai skyline was a canvas for a dazzling 30-minute show, capped off with six minutes of continuous fireworks engulfing the city's man-made, palm-shaped island which shimmered in thousands of lights.
Guinness World Record officials were on hand for Dubai's event, which needed to be longer than five minutes.
Organisers had promised the fireworks would form a flying falcon, a sunrise and the United Arab Emirates flag. It wasn't clear if the designs or world record were achieved.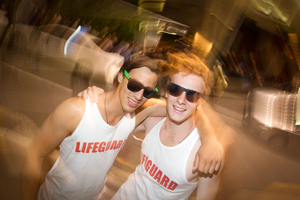 Kuwait has held the record since last year, firing more than 77,000 fireworks in a display lasting more than an hour.
Hundreds were injured by fireworks and celebratory gunfire in the Philippines, at the end of a year of disasters including the November typhoon that left more than 6100 dead and nearly 1800 missing. "Many are welcoming the new year after losing their [families] so you can imagine how it feels," said Maria Rosario Bactol in Tacloban, the city worst hit by Typhoon Haiyan.
- AP