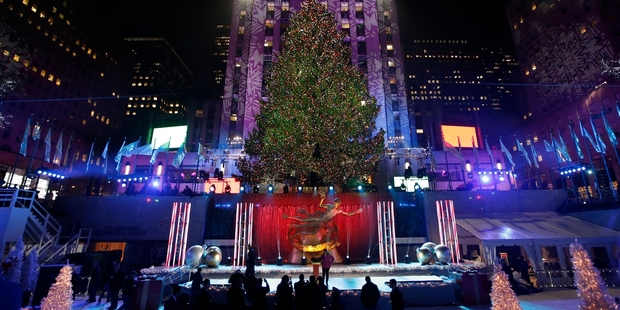 For sharp-elbowed New Yorkers accustomed to walking where they need to go at a big-city pace, the holiday season is hardly the most wonderful time of the year.
An estimated 5 million tourists who flock to the city between Thanksgiving and New Year's Day to see the tree at Rockefeller Centre, the bright lights of Times Square and the Empire State Building often clog the footpaths in an agonisingly slow procession that grates at locals and turns them into pavement Scrooges.
"They're like the walking dead, real slow," griped Dennis Moran, 46, a fire safety officer at a building in Times Square and a native New Yorker. "They have this unnatural habit of stopping in the middle of the sidewalk."
It's not that these Grinches don't like the visitors; they just want them to use a little footpath etiquette. Among the biggest complaints: They stop in their tracks to take pictures. They stroll side by side in a footpath-blocking line.
And worst of all, said Jose Francis, a caterer from Brooklyn who works in midtown Manhattan, they like to discuss group plans in the middle of the footpath.
"They're walking then they look, they stand there and then, boom, you run right into them," he fumed. "They don't pay attention. New Yorkers, we're walking brisk. We keep it moving."
Every year at this time, Bronx-born Macy's shoe salesman Henry Vega said he has to double down on his resolve to manoeuvre pavements full of shopping-bag carrying, picture-taking, map-holding tourists.
"I tell them, 'New York is a fast-paced town; we get up in the morning and we get on the go, and 24 hours isn't enough'," said Vega, 54, as he noshed on a slice of pizza, standing, between shifts. "They tell me, 'You guys are always in a rush'."
Vega's trick for navigating the holiday-time footpaths of New York?
"I already know I'm going to zigzag," he said. "Sometimes I walk in the street."
But tourists say it's no walk in the park for them, either.
Joanie Micksy, 47, was visiting New York with her 17-year-old daughter Sarah last week from their home in Greenville, Pennsylvania, when she received a not-so-gentle reminder that she was in somebody's way.
"She just said, 'Excuse me,' but in a totally snotty way," Micksy said as she waited at a Times Square intersection to look up directions on her phone. "She said it like I got in her way on purpose. Like that was my goal when I got up this morning."
In 2010, an improv group disguised as city transportation workers used chalk to divide a footpath in two, leaving the right lane open for speed-walking New Yorkers, and the left for picture-taking tourists. The video went viral.
At Rockefeller Centre, site of the 23m Christmas tree, companies with offices in the building each year urge their employees to avoid the outdoors when exiting during the nationally televised tree lighting earlier this month - suggesting they escape to the subway system via an underground concourse level.
Shawn Hicks, 26, a courier from Brooklyn who works in Manhattan, said that while complaining about the ambulatory annoyances of the holiday season was every New Yorker's right, he didn't think it was necessarily just.
"If you're touring another country, what are you going to do?" he asked of his fellow locals. "So it'll take you 10 seconds longer, so what?"
But Moran dismissed the Kumbaya approach and suggested tourists take note before venturing into the concrete jungle.
"Watch the locals," he said. "Learn from the locals."
- AP