AP correspondent Michelle Faul on her experience of the system Nelson Mandela fought to bring down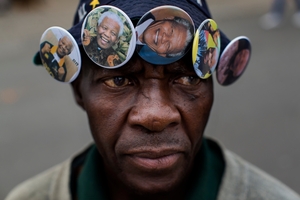 My mother was furious. The operators of the petrol station in rural, racist South Africa had taken her money to fill the car, but would not give her the key to the toilets. They were for whites only.
It was the early 1960s, and apartheid was the law of the land.
So my indomitable mum did the only thing she could do: she ordered me and my two sisters to urinate right there, very publicly, in front of the fuel pumps. We did not disobey, but I started crying and my sisters bawled, too. We lowered our shorts, but I was so traumatised that I simply could not go.
My widowed mother, Ethel Pillay, had driven us from our home in Zimbabwe, then Rhodesia, to visit family in her native South Africa.
There was racism in Rhodesia, too, but it was nothing like the institutionalised code in South Africa that made blacks subhuman - the system that Nelson Mandela fought to bring down.
We were taking the car because the train ride was difficult for a woman with three children and lots of baggage.
The train also was an uncomfortable ride for blacks: halfway through the trip, in the middle of the night, they would have to get out of the Rhodesian Railways compartments and transfer to decrepit blacks-only South African carriages.
The car trip presented its own challenges. Hotels catered only to whites, so the drive needed to be nonstop. We also had to carry piles of food and drinks because my mother refused to go to the back door of shops; only whites were allowed inside the stores.
Black people were called "Africans", we were "Coloured" to designate our mixed race, and whites were called "Europeans".
Sometimes those lines got blurred. South Africa had a crazy system of deciding your race, including whether the moons of your fingernails were a bit more mauve than white, indicating a hint of black blood. There also was the test of whether a pencil would stay in your hair, indicating it must be of kinky black stock. If the pencil slid through, you could be considered white. Under such rules of apartheid, Chinese were classified as Coloured despite their straight hair; Japanese were white. Blacks who wanted to be reclassified as Coloured also could undergo the pencil test: if it fell out when you shook your head, you could become Coloured.
Tens of thousands of people changed their race in this manner. Sometimes it was not voluntary and led to families being forcibly separated - even children from their parents - if one member was deemed not to belong to the same race. It was not unusual, in the Coloured community, to find siblings ranging in shades from deepest black to fair with blond hair.
I remember the sorrow brought on our family because one of my mother's sisters "played white". When she was in her 90s, my grandmother recounted how her own daughter walked past her in the street, pretending not to know her. But with the pain still stark in her eyes, she told me, "That's what she had to do to make a better life for herself and her children."
Being white meant you got decent health care, your kids could go to school, and you could live where you wanted.
Blacks were corralled into townships, if they could get jobs in the city. If not, their urban shacks often were bulldozed and they were forcibly moved to unproductive "homelands". My experience was more the absurd pettiness of apartheid, rather than the brutal, state-sponsored violence used to maintain it. If you were white, you had access to jobs denied to blacks. The only black professionals were teachers, like my mother; nurses and doctors who could only treat blacks; and lawyers.
We moved to England from Rhodesia when I was a child because my mother fell in love with a white man, Michael Faul, who had come to Rhodesia when he was 2. His mother strenuously objected to the marriage, and for years, she was estranged from her only son until my mother forced him to reconcile.
On subsequent visits to South Africa as a teenager, I had a British passport. That put me in the peculiar position of being an "honorary white", meaning I could stay in white hotels and, on showing my passport, go to restaurants, movie theatres and other places reserved for whites.
My mother, now writing her memoirs, recalls racism as something that "children were not taught. ... it seemed to be imbibed unconsciously, and automatically became a part of you".
When that evil system finally was crushed, we all were in awe of Mandela's insistence on reconciliation and not retribution. It is a tribute to him that today, as he ordained, I and others forgive but do not forget.
- AP