Hundreds of rescue workers searched for survivors in the rubble of a half-built mall that collapsed near the South African city of Durban Tuesday, killing one person and injuring dozens.
Police spokeswoman Mandy Govender said one person was confirmed dead and 26 people had been pulled from the debris after the roof of the mall collapsed.
"It was a mall building still under construction," said Govender. "Most of those still trapped inside the building were construction workers."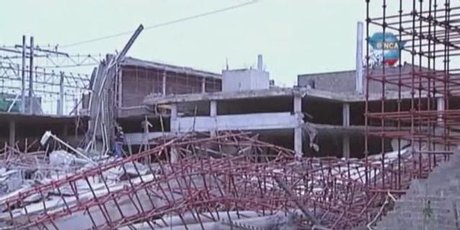 Emergency response company ER24 said that one person was airlifted to hospital, two more were in a critical condition and 18 were seriously injured.
As darkness fell emergency crews deployed sniffer dogs and specialist equipment to find anyone trapped beneath the vast broken plinth of concrete and mesh of rebar.
"An estimated 50 are underneath the rubble," said paramedic Neil Powell at the scene.
"It's pretty dark now and it's getting unmanageable," he added. "It's a very big construction site, probably about 200 metres long."
Powell said most of the injured suffered "broken bones, multi-fractures and crush injuries".
"Some are in severe condition, others are mild," the paramedic said.
Heat-seeking equipment detected three "hot spots" where other survivors may be located.
Fibre-optic cables were being fed into the area to determine if anyone else is alive.
The incident happened at around 4:30 pm (3.30am NZT) in the small town of Tongaat, around 40 kilometres north of the Indian Ocean city of Durban.
Fiona Moonean, who lives across from the building site, was washing dishes when she heard a "thunderous noise" coming from outside.
"There was this sound, it was too huge, that I picked my head up - at that point I just saw the whole slab - that just came down and all you could hear was the guys screaming," she told AFP.
"The smoke looked as if somebody has put dynamite in the building, where everything just blows up.
"When the dust started to settle some of the guys started getting out and tried to go back to try and help some of their colleagues.
"The most traumatic part was hearing the guys screaming," she said.
Cheap labour means it is not unusual to see hundreds of workers toiling away at construction sites in South Africa.
The cause of the roof collapse was not immediately clear, but eyewitnesses reported seeing scaffolding being removed before the collapse, and there were unconfirmed reports of structural problems.
"At this stage we cannot comment on such (matters) as the police will have to determine such," said Crisis Medical managing director Dean Macpherson, whose team was aiding the effort.
"However, we are led to believe that there were concerns expressed in recent months about the safety of the building," he told AFP.
"We are led to believe that the eThekwini municipality obtained a court order to stop the building construction after safety concerns, however, the company continued to build illegally."
That account could not immediately be confirmed with the authorities.
An municipal fire official said emergency teams were working to secure the site.
"There is work in progress to try and stabilise the situation," he said, refusing to give his name because he was not authorised to speak to the media.
-AFP