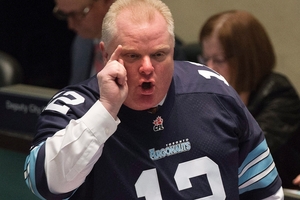 Toronto's City Council has voted overwhelmingly to strip Mayor Rob Ford of some of his powers, trying to box in the brash leader who has rebuffed huge pressure to resign over his drinking and drug habits and erratic behaviour. Ford vowed to challenge the measure in court.
The motion, approved in a 39-3 vote, suspends Ford's authority to appoint and dismiss the deputy mayor and his executive committee, which runs the budget process. In a separate vote, the council voted to give the deputy mayor authority to handle any civic emergency. The effort will continue Monday when the council moves to strip the mayor of most of his remaining powers.
The votes capped another frenzied week of twists and turns in the scandal that has consumed Canada's largest city and financial capital for months.
Newly released court documents showed that the mayor became the subject of a police investigation after news reports surfaced in May that he had been caught on video smoking crack.
In interviews with police, former staffers accused the mayor of frequently drinking on the job, driving while intoxicated and making sexual advances toward a female staffer. Ford stirred up further controversy - even offending Canada's oldest football team - when he used profanity Thursday while angrily addressing the latest allegations.
Most city councillors are frustrated by Ford's refusal to step aside but they lack the authority to force him out of office unless he is convicted of a crime.
An unusually subdued Ford said he had no choice but to fight the motion in court while also saying he understood why the council was taking the measures - a typical display of defiance followed by a flash of remorse.
"If I would have had a mayor conducting themselves the way I have, I would have done exactly the same thing," Ford said.
His lawyer, Dennis Morris, called the council's actions a "coup" and said they have hired a municipal law expert to challenge it.
The vote came a day after yet another series of antics from Ford that outraged city councillors, anti-drunk driving advocates and even Toronto's football team, which protested when Ford wore a team jersey while making a profanity-laced statement.
"We need to take away his power for the good of the city," said Councillor Denzil Minnan-Wong, a former ally. "The tide has turned and there are very few people that are prepared to defend him given his vulgar comments and his admission that not only does he takes drugs but that he seems to be comfortable drinking and getting behind the wheel."
Morris, Ford's lawyer, said he thought the council's overwhelming support to strip the mayor's power came about because of the public outcry over the obscenity that Ford spouted a day earlier while denying that he pressured a female employee for oral sex. The mayor said on live television that he was "happily married" and used crude language to say he enjoys enough oral sex at home.
"If it wasn't for that stupid comment he made yesterday no one would have thought this (the council's action) was appropriate," Morris told The Associated Press. "It was a turning point for public sympathy. That type of remark is never every appropriate in public. There's no doubt about it, he's going to have to do a lot of leg work to gain back public confidence in him."
Morris said the "media have been attacking him like jackals" and Ford "lost it".
Ford announced Thursday that he was seeking help form a team of medical professionals, though he declined to provide details. Although the mayor has admitted to excessive drinking and using and buying illegal drugs, he and his family have insisted he is not an addict and does not need rehab.
But even Morris said the recently released court documents corroborate the fact that the mayor has a problem with alcohol. Morris said he doesn't understand how police allowed him to drink and drive while the mayor was under surveillance the past six months.
"The problem drug Rob has is alcohol, that's obvious," Morris told The AP. "What I found very strange is that the police allowed a lot of this to go on under their supervision. If he was drinking and driving and he was impaired they should have stopped him."
Ford's troubles began escalating in May when news reports of the crack video surfaced. After months of evading the question, the mayor admitted to having smoked crack when Toronto police announced they had obtained the video. Police have said the video does not amount to enough evidence to charge the mayor and it has not been released because it is evidence before the court.
Revelations have rapidly surfaced of other startling behaviour, including a video showing the mayor threatening to kill someone in an incoherent rant.
It has been a stunning decline for the 44-year-old mayor who was elected three years ago with fervent support from Toronto's conservative-leaning outer suburbs, where many voters felt angry about they considered wasteful spending and elitist politics at City Hall.
John Filion, the councillor who introduced Friday's motion, has said the goal is to prevent Ford from firing executive committee members who speak out against him. A motion to be considered Monday, already signed by 28 of the 44 council members, will take away his budget and appoint the deputy mayor as head of the executive committee.
Earlier this week, the council voted overwhelmingly to ask Ford to take a leave of absence, but the motion was non-binding.
Key events in Ford's long year
Here are some key events from his long year in the news:
May 16-17: The Toronto Star and US-based news site Gawker report that Ford was seen on video smoking what appears to be crack cocaine and making racist and anti-gay comments. Ford calls the allegations "ridiculous" and the work of a smear job by the Star. His lawyer Dennis Morris calls them "false and defamatory".
---
May 19-20: Late-night TV comedians in the US begin skewering the mayor. "Daily Show" host Jon Stewart says: "Don't judge him: Maybe he's cleaning up the city by smoking all the crack in it."
---
May 26: Ford attacks the media, calling them "a bunch of maggots".
--
June 13-15: Toronto police raid several homes, including an apartment building where reports had said the purported crack-smoking video was located. The Star and The Globe and Mail report that two of the suspects arrested in the raid also appear with Ford in a widely publicised photograph connected to the video.
---
August 9: Ford is accused of being drunk in public after videos appear on YouTube showing him slurring his speech at a street fair. Ford says he had "a couple of beers" but was not intoxicated. Ford later acknowledges on his radio show that he was "hammered".
---
October 1-2: Ford's friend and occasional driver, Alexander Lisi, is arrested and charged with trafficking marijuana. Ford defends Lisi, calling him a "good guy".
---
October 31: Police Chief Bill Blair announces police recovered a copy of a video file that depicts Ford smoking crack. Blair says police have no grounds to criminally charge the mayor based on the video alone. But he says the massive surveillance operation led to charges against Lisi, including extortion for his attempts to "retrieve a recording".
---
November 3: Ford apologises on his weekly radio show for making mistakes, including texting while driving.
---
November 5: Ford, after months of denials, admits in a stunning confession to reports that he smoked crack cocaine about a year earlier while in one of his "drunken stupors". He vows to remain in office and insists: "No, I'm not an addict."
---
November 6: Late-night TV host Jimmy Kimmel airs a video entitled "How to Tell If Your Mayor is Smoking Crack" that highlights Ford's behaviour as mayor, including walking into a TV camera, tumbling down hard while playing with a football and shouting down reporters outside his door.
---
November 7: A video is posted online by the Toronto Star and Toronto Sun that shows Ford spewing obscenities and threatening to "kill" someone. The mayor tells reporters moments after the blurry video is posted that he was "extremely" drunk at the time and is "extremely" embarrassed.
---
November 13: Ford admits during a heated City Council debate that he bought illegal drugs while in office, but refuses to step down despite calls from nearly every councilor to take a leave of absence and get help. Ford becomes the subject of TV host David Letterman's nightly Top 10 list after pausing for eight seconds when asked if he ever bought illegal drugs. Answer No. 5: "I don't remember, you should be talking to me crack dealer."
---
November 14: Ford draws gasps from reporters with an obscenity-laced denial of allegations that he told a female staffer he wanted to have oral sex. Ford says he is "happily married" and uses crude language to say he enjoys enough oral sex at home. He later apologises for the remarks, which he made outside city hall while wearing a Toronto Argonauts football jersey, drawing censure from the team. He also threatens to take legal action against aides and a waiter over interviews with police that were detailed in court documents.
---
November 15: City councillors, who have stepped up their efforts to force the mayor out of office despite lacking a legal path to do so, vote overwhelmingly to strip Ford of some of his powers. Ford vows to fight the decision in court. The council plans to try to strip the mayor of most of his remaining powers.
- AP