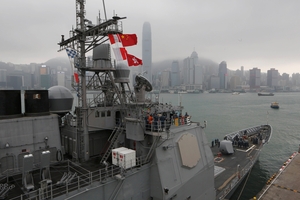 As warships sent to aid Philippines, allegations of prostitutes and cash being swapped for classified data shows darker side to military
When it comes to public relations the Pentagon would prefer the world sees its men and women helping others.
This week US Navy vessels, including the aircraft carrier USS George Washington, left Hong Kong to assist the Philippines in the apocalyptic aftermath of Typhoon Haiyan. It is a classic projection of soft power.
Despite Pentagon austerity drives, humanitarian aid is relatively cheap; the deployment of a US carrier after the 2004 tsunami equalled roughly three days combat operations in Afghanistan, according to costings by the Centre for Strategic and International Studies. It also shows the world that, when it comes to boots-on-the-ground disaster relief, the US leaves China - a regional rival widely viewed as the target of America's Asia-Pacific "pivot" - far behind. Beijing's aid offer is less than New Zealand's.
However, an evolving bribery scandal within the highest echelons of the US Navy illuminates a darker side. At its epicentre is Leonard Glenn Francis, a.k.a. "Fat Leonard", CEO of Singapore-based Glenn Defence Marine Asia. Prosecutors say his company - which supplies water, food, fuel, sewage disposal, tugboats and other services - gleaned classified information about ship schedules from navy officers in return for prostitutes, cash and other bribes, including tickets to a Lady Gaga show.
The information was used to direct warships to ports with slack oversight, allowing GDM to over bill its services by millions. Francis allegedly received tip-offs about a navy investigation to evade detection.
This week the pressure inside the navy cranked up when the Washington Post reported that two US admirals had been implicated in the scandal. Rear Admiral Bruce Loveless, the navy's director of intelligence operations, and Vice Admiral Ted "Twig" Branch, the navy's top intelligence officer, were sent on leave and denied access to classified data.
The navy is tight-lipped about why the two admirals came under suspicion - neither man had been charged at press time - other than alleging "inappropriate conduct" before the men reached flag rank.
Nonetheless, their suspension fuelled questions about whether the scandal has harmed national security, although officials remain mute. "A number of officials were willing to sacrifice their integrity and millions of taxpayer dollars for personal gratification," US Attorney Laura Duffy, whose office in San Diego is prosecuting the defendants, said in a statement last week.
"We believe that other naval officers, and perhaps even some navy civilians, will be implicated in this scandal," Rear Admiral John Kirby, the navy's spokesman, told the Herald. "We've going to let the investigation proceed, let the facts take us where they may. And for those found to be at fault, and guilty of wrongdoing, they're going to be held accountable."
The last time a navy scandal enveloped senior ranks was 1991, when the Tailhook affair, where navy pilots sexually assaulted scores of women at a Las Vegas convention, sparked public outrage. Senior heads rolled. The Pentagon says sexual assaults leapt 46 per cent, from 2434 to 3553, this year. It is unclear if this means more assaults or more assaults reported.
To date, three US Navy officers have been charged. Commander Michael Vannak Khem Misiewicz, a destroyer captain, and John B. Beliveau II, a senior agent with the Naval Criminal Investigative Service, pleaded not guilty.
Commander Jose Luis Sanchez, a senior logistics officer with the 7th Fleet in Japan, is charged with accepting US$100,000 ($120,000), paid travel and prostitutes "in exchange for classified and internal US Navy information".
He is expected to make a plea next week at a hearing in San Diego. In addition, Captain Daniel Dusek, skipper of the USS Bonhomme Richard, was stood down in October but has not been charged. "But I can tell you the navy is girding itself for future cases to be unfolded," said Kirby.
Francis, a Malaysian citizen, was arrested in September, with GDM colleague Alex Wisidagama, a Singapore citizen, after they were enticed to San Diego by a sting operation when navy officials said they wanted to discuss business matters in person. Both have pleaded not guilty.
As evidence, prosecutors released emails that allegedly show exchanges between Francis and his co-accused.
In October 2009 Sanchez discusses a trip with his "wolf pack", navy pals, to Kuala Lumpur and Singapore and asks for pictures of prostitutes. Francis responds: "J, got it we will hook up after the FLAG dinner, will arrange a nest for you guys and some birds [women]." Several days later Sanchez responds: "Yummy ... daddy like."
Other alleged exchanges are more sinister. In April 2012 Beliveau - who was honoured in 2010 as NCIS Special Agent of the Year in Combating Terrorism - emailed Francis: "You give whores more money than me :) Don't get too busy that you forget your friends ... Let me know ... I can be your best friend or worst enemy." Francis replies: "You are a sore Bitch and I have not forgotten you Bro. How do I send you a gift?"
In the wake of the scandal the Pentagon quickly severed its ties with GDM, which was awarded US$200 million in US contracts in 2011.
Founded in 1946, GDM touts itself as "Asia-Pacific's leading naval logistics and marine husbanding service provider," active in more than 60 ports. It provides round-the-clock fleet support for the US, UK, Russian, Chinese, French, Indian, Australian, New Zealand and other navies.
Prosecutors contend GDM, which began doing business with the US Navy in 1997, over-charged the Pentagon by upwards of US$10 million.
While this is peanuts in the context of the estimated US$716 billion defence budget for 2013 - the Defence Department predicts that each soldier deployed in Afghanistan next year will cost taxpayers US$2.1 million - it nonetheless highlights some disturbing security issues for the Pentagon.
Kirby said that the NCIS began to receive tip-offs from 2005, indicating something was rotten within GDM. But investigators were thwarted when a navy insider began feeding Francis with details of the NCIS inquiry.
The contractor's source is alleged to be Beliveau. "It's a matter of public record," said Kirby, "that at least one person tipping [Francis] off was a NCIS agent." At the same time Francis had a criminal past, pleading guilty to firearms charges - possessing two revolvers, ammunition and a bullet-proof vest - in a Penang court in 1986. He pleaded not guilty to robbery.
The NCIS confirms the charges, but having a conviction is no bar to landing US contracts. And outfits like GDM are thin on the ground. Then there is concern officers who used prostitutes risked being blackmailed , a classic honey trap ruse. Might this pose a security risk in a region with growing tensions between the US and China? There was "definitely concern" among top brass and on Capitol Hill said Kirby. The case continues.