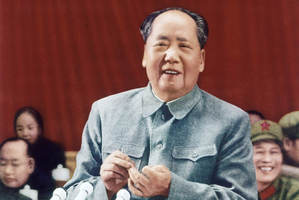 More than 15 billion yuan ($2.9 billion) has been poured into the home town of Communist China's founding father Mao Zedong for the 120th anniversary of his birth, prompting public outrage after the Government promised to cut down on extravagance.
President Xi Jinping has promised to stamp out waste and corruption since taking over the Communist Party last November.
But the party said it was to spend 15.5 billion yuan on 16 schemes linked to the occasion, including renovating a tourist centre and preserving Mao's former residence, according to the Changsha Evening News.
Mao, who led the Communist Party to victory in China's civil war, was born in Shaoshan, in Xiangtan city, on December 26, 1893.
The city will gain a new high-speed rail station and new highways to impress the expected influx of visitors.
Local authorities in Xiangtan have hailed the commemoration by saying its "importance overrides any other at the moment". But Chinese internet users reacted with indignation.
"How much money does it cost to deal with pollution?" wrote one poster on Sina Weibo. "How much does it cost to provide medical insurance? How much to offer students from poor districts free lunch?
"I can't believe they're spending this much money on a dead man, a controversial dead man."