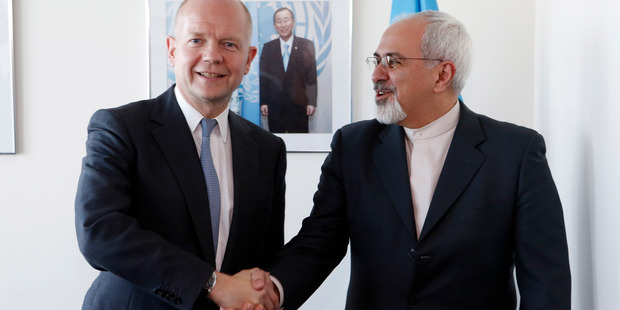 Britain and Iran are to take a first step towards re-opening their respective embassies, Foreign Secretary William Hague says, adding that Tehran's new leadership is presenting itself "in a much more positive way than in the recent past."
Since his election in August, Iranian President Hassan Rowhani has affected a more reconciliatory tone with the West, which accuses his country of building nuclear weapons and has imposed harsh sanctions.
Britain shut its embassy in Tehran in 2011, after it was attacked by protesters, and Iranian diplomats were expelled from London.
The two countries are now to appoint non-resident charges d'affaires who will be tasked with overseeing steps towards "the eventual re-opening of both our embassies" and work to improve bilateral relations, Hague says.
The minister said he had met twice with his Iranian counterpart Mohammad Javad Zarif in New York, and that "there is no doubt that the tone of the meetings with them is different."
However, he added: "We must not forget for a moment that as things stand today, Iran remains in defiance of six Security Council resolutions and multiple resolutions of the International Atomic Energy Agency board of governors and is installing more centrifuges in its nuclear facilities."
"In the absence of change to these policies, we will continue to maintain strong sanctions."
- AAP