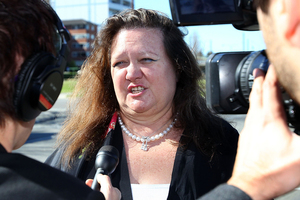 The absorbing, bitter drama of the life of Australia's richest family will resume in Sydney today, after last-minute wrangling over a key change in its exclusive cast.
The civil action John Hancock and sister Bianca Rinehart are pursuing against their mother, mining billionaire Gina Rinehart, was delayed for the appointment of a new trustee for the A$5 billion family trust established by their grandfather, Lang Hancock.
In a surprise move last week, Gina Rinehart offered to step down as trustee in favour of a new head of "lineal descent". The case was adjourned yesterday to allow a decision to be made in mediation.
But Rinehart's un-named preference has not been accepted by her children, who have objected to any move to have their younger sister Ginia appointed to the job.
Rinehart has in turn objected to Hancock's candidacy, although Hancock's lawyer, Christopher Withers, told the Australian that West Australian mining magnate Andrew "Twiggy" Forrest had sworn an affidavit supporting his bid.
The titanic struggle for control of the vast fortune has been gripping from the start, pitting three children living on borrowed money against the legal battalions employed by Rinehart, worth an estimated A$17 billion ($19.3 billion). One of the three, Hope Welker, has since been forced from the action by crippling finances. Ginia Rinehart has taken her mother's side.
At stake is control of the Hope Margaret Hancock trust set up in 1988 by pioneer WA miner Lang Hancock, naming his four grandchildren as beneficiaries and installing Rinehart as trustee after his death.
Hancock reportedly had intended that John and Bianca would through the trust control the huge Hope Downs iron ore mine in WA's northern Pilbara region, which Rinehart owns in partnership with Rio Tinto and which supplies much of her wealth.
But two years ago Rinehart announced, on the eve of the vesting of the trust, that she intended to delay the vesting date until 2068. By then her children, if still alive, would be in their 80s and 90s.
John, Bianca and Hope launched action in the New South Wales Supreme Court, challenging her role as trustee and accusing her of "gross misconduct" as trustee.
In court documents her children also accused Rinehart as acting "deceitfully" and with "gross dishonesty".
Rinehart struck back with a legal barrage that for much of their dispute forced them to keep silent, and threatened them with bankruptcy through a crushing huge capital gains tax liability.
Hancock later received advice from the Tax Office that no tax would be due on the trust vesting.
Rinehart also cut her children off financially, withholding trust income that should have given each almost A$400,000 in 2011-12. She said the money was withheld as a lien against their "malicious" action.
Hope withdrew, but John and Bianca have continued on borrowed money, running up legal costs of hundreds of thousands of dollars.
Rinehart insists she was acting in the family's best interests, claiming in documents tendered to the court that the children were selfish and spoiled and not equipped to run the trust.
Last week, Ginia Rinehart unsuccessfully tried to have the trial switched to private arbitration.