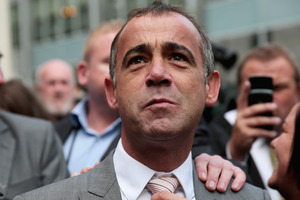 Coronation Street star Michael Le Vell was cheered by supporters after being cleared of child sex allegations and looks set to resume his role in the long-running soap.
In emotional scenes at Manchester Crown Court, the actor mouthed "thank you" to the jury after it acquitted him of all 12 charges including five of rape.
Le Vell, 48, said he was delighted at the verdict which he described as a "big weight off everybody's shoulders", before celebrating with a beer at a nearby hotel.
The jury took five hours to accept the defence's claim that while Le Vell - real name Michael Turner - was a "weak, stupid and drunk man" and a "bad husband", he was not a paedophile.
His alleged victim had sobbed in evidence as she claimed she was groomed and abused from the age of 6 by the star in a near decade-long ordeal culminating in a series of attacks including one in which she was raped while clutching a teddy bear.
But the defence poured scorn on her version of events and said no DNA had been recovered. A medical examination also failed to reveal evidence of assault.
Judge Michael Henshell, who had warned the jury of eight women and four men not to be influenced by the defendant's fame, said they had to decide if they believed the teenager's account.
Le Vell, who has played mechanic Kevin Webster in the soap for 30 years, is now expected to discuss his future with Coronation Street bosses after taking a holiday. He has not appeared in the show since his arrest.
Le Vell described how he was "fighting for his life" during the trial. He rejected prosecution claims that he was using his acting skills to convince the jury of his innocence.
The jury heard evidence of the actor's alcoholism and he admitted that he had had an affair and a number of one-night stands with women, some while his wife was being treated for breast cancer.
The defence argued that the claims against him were "a pack of lies". Police found no child pornography on his computer and other parents said they felt comfortable with him around their children.
- Independent