Russian leader sceptical of poison gas attacks but doesn't rule out support for UN action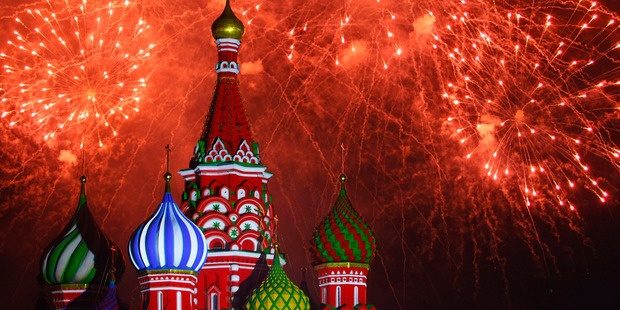 Vladimir Putin warned the West against taking one-sided action in Syria but also said Russia "doesn't exclude" supporting a UN resolution on punitive military strikes if it is proved that Damascus used poison gas on its own people.
In a wide-ranging interview with AP and Russia's state Channel 1 television, Putin said Moscow has provided some components of the S-300 air defence missile system to Syria but has frozen further shipments. He suggested that Russia may sell the potent missile systems elsewhere if Western nations attack Syria without UN Security Council backing.
The interview at Putin's country residence outside the Russian capital was the only one he granted before the summit of G20 nations in St Petersburg, which opens tomorrow. The summit was supposed to concentrate on the global economy but now looks likely to be dominated by the international crisis over allegations that the Syrian Government used chemical weapons in the country's civil war.
Putin expressed hope that he would have serious discussions about Syria and other issues in St Petersburg with US President Barack Obama.
"President Obama hasn't been elected by the American people in order to be pleasant to Russia. And your humble servant hasn't been elected by the people of Russia to be pleasant to someone either," he said of their relationship.
"We work, we argue about some issues. We are human. Sometimes one of us gets vexed. But I would like to repeat once again that global mutual interests form a good basis for finding a joint solution to our problems," Putin said.
He also denied that Russia has anti-gay policies - an issue that has threatened to embarrass the country as it prepares to host the Winter Olympics in February.
The Russian leader, a year into his third term as President, appeared to go out of his way to be conciliatory amid a growing chill in US-Russian relations. The two countries have sparred over Syria, the Edward Snowden affair, Russia's treatment of its opposition and the diminishing scope in Russia for civil society groups that receive funding from the West.
Putin said it was "ludicrous" that the Government of President Bashar al-Assad, a staunch ally of Russia, would use chemical weapons at a time when it was holding its own against the rebels.
"From our viewpoint, it seems absolutely absurd that the armed forces, the regular armed forces, which are on the offensive today and in some areas have encircled the so-called rebels and are finishing them off, that in these conditions they would start using forbidden chemical weapons while realising quite well that it could serve as a pretext for applying sanctions against them, including the use of force," he said.
Putin praised Obama as a frank and constructive negotiating partner and denied reports that he had taken personal offence at remarks by Obama comparing Putin's body language to that of a slouching, bored student. Putin said appearances can be deceiving.
He denied Russia has anti-gay policies, indicating that Obama was welcome to meet gay and lesbian activists in Russia during his visit. He even said he might meet with a similar group himself.
He also said athletes and activists would not be punished if they raise rainbow flags or paint their fingernails in rainbow colours at the Winter Olympics in February.
In his words
On videos from Syria after the chemical weapons attack
"These are horrible pictures. The question is only who did it and what they did, and who is responsible for this. These pictures do not answer the questions I have just posed. There is an opinion that it's a compilation by these very rebels who are connected with al-Qaeda and who are always distinguished by exceptional brutality."
On the body language between Putin and Obama
"There are some gestures, of course, that you can only interpret one way, but no one has ever seen those kinds of gestures directed by Obama at me or by me at Obama, and I hope that never happens. Everything else is fantasy."
On gays in Russia
"I assure you that I work with these people, I sometimes award them with state prizes or decorations for their achievements in various fields. We have absolutely normal relations, and I don't see anything out of the ordinary here. They say that Pyotr Ilyich Tchaikovsky was a homosexual. Truth be told, we don't love him because of that, but he was a great musician, and we all love his music. So what?"
On Alexei Navalny, the anti-corruption campaigner who is running for Moscow mayor
"This gentleman has taken on the very fashionable theme of fighting corruption and I say again, in order to fight corruption you have to be crystal clear yourself, but there are problems here, and in this regard I unfortunately have a suspicion that this is just a way of getting votes and not a genuine desire to solve the problem."
On pushes for political reform by the Russian intellectual elite
"But we all should be aware of the fact that when revolutionary, not evolutionary, changes come, things can get even worse. The intelligentsia should be aware of this. And it is the intelligentsia specifically that should keep this in mind and prevent society from radical steps and revolutions of all kind. We've had enough of it. We've seen so many revolutions and wars. We need decades of calm and harmonious development."
- AP