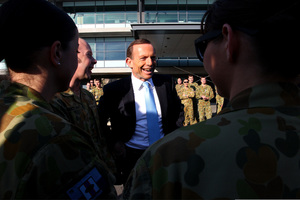 The Syrian crisis and Opposition leader Tony Abbott's competence to deal with international affairs have become a central issue in the fight for power in Australia.
Events overseas and security policy rarely gain much traction in the scramble for votes. But Prime Minister Kevin Rudd, after earlier tripping himself in the same field, is turning the heat on Abbott in his broader strategy of undermining voters' trust in his rival ahead of Saturday's election.
Rudd is portraying Abbott as a dangerous babe in the global woods who would damage Australia's vital interests abroad, from relations with Indonesia to Syria and the nation's newly assumed presidency of the United Nations Security Council.
Abbott says he is ready to handle anything that is thrown his way, including foreign affairs, and has in turn attacked Labor's defence policy and spending cuts that have taken the military budget to its lowest in relation to gross domestic product since 1938.
Rudd has his job more than cut out for him. The latest Newspoll, continuing a catastrophic trend for Labor, said that Abbott had for the first time taken the lead as preferred prime minister - although more than half of the nation's voters were unhappy with both.
Published in the Australian yesterday, Newspoll reported a 4 per cent swing to the Coalition since the 2010 election, opening its lead over Labor to 54-46 per cent in the two-party preferred vote that decides Australian elections.
Still insisting that Labor could win despite the polls, Rudd yesterday continued his assault on Abbott's diplomatic skills, deriding the Opposition leader's summation of the Syrian crisis as simplistic.
In a weekend ABC TV interview Abbott said he preferred a political solution to a civil war waged by "two pretty unsavoury" sides. "It's not goodies versus baddies," he said. "It's baddies versus baddies."
Rudd said Abbott was trivialising a serious issue of foreign policy, international relations and national security: "The last time I used the term 'goodies and baddies' was when I was playing cowboys and Indians in the backyard. I think I stopped doing that about the age of 10 ...
"If you're uncertain about what Mr Abbott's putting out there, then I think listen to your instincts and don't vote for him."
Abbott returned fire yesterday, describing Rudd's attack as "hyperventilation" and defending his use of "colloquialisms" to explain complex affairs: "People such as [UK Prime Minister] David Cameron and [former US President] Bill Clinton have referred to 'good guys' and 'not so good guys."'
Rudd has himself fallen into troubled international waters during the campaign. Without consulting Cabinet colleagues and speaking outside Government policy, he suggested foreign investment rules should be tightened, upsetting important investors such as China. Labor later said no changes were planned.
And Rudd's intention to order a review into the possible relocation of much of the navy from its fleet base in Sydney to Queensland brought down the wrath of the New South Wales Government, the Opposition, and defence analysts. It also raised more hackles in China, which sees US forces in Australia and plans to support them as a potential threat.
Abbott said he would need to counter growing American perceptions that Labor was "freeloading" on the US for the nation's defence.