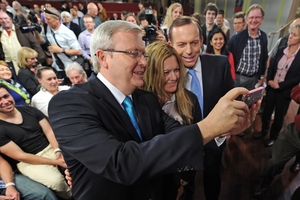 Don Payne, a retired aircraft engineer, had one thing to say to David Bradbury, Labor MP for the ultra-marginal seat of Lindsay, when he encountered him last week at the Penrith markets, in Sydney's west.
"You're a good bloke, but you're batting for the wrong team," he told him.
It's a sentiment one often hears around Lindsay, a seat that since its creation in 1984 has always been held by the party of government. Home to young families and "battlers", as former Prime Minister John Howard called the aspirational voters living in outer suburban Australia, it was Liberal territory throughout his years but shifted to Labor when Kevin Rudd swept to power in 2007.
Bradbury, who is also Rudd's Assistant Treasurer, held it in 2010, with a majority of just 1.12 per cent, or 933 votes. On Saturday, barring a miracle, he will be replaced by Fiona Scott, as Lindsay - along with a large chunk of western Sydney - helps to propel Tony Abbott into the Lodge.
The western suburbs were once Labor's heartland; now they comprise a swag of marginal seats crucial to both parties' fortunes. According to a Newspoll survey published in Friday's The Australian, Lindsay - where Scott's "sex appeal" was controversially highlighted by Abbott a fortnight ago - is one of five electorates where the Liberals lead Labor by an average of 14 per cent.
While the broader region is characterised by ethnic diversity, Lindsay is still largely Anglo-Australian.
"Boatpeople" figure prominently here, as do cost-of-living pressures, job insecurity and the congested motorways linking Penrith - the regional city at the heart of the electorate - with Sydney.
Yvonne Slade used to vote Labor, but is now thoroughly disillusioned. "We're in hock to China for billions of dollars; our children and their children will have to pay off this terrible debt," she says, fresh from shaking Abbott's hand during a walkabout by the opposition leader in the Penrith Plaza shopping centre - one of many visits he has made to the key seat in recent months.
Slade is angry that Chinese companies "can just walk in here and buy up our land by the tonne", and she resents "all the dollars we're giving to dole bludgers and boatpeople", while her husband, a 63-year-old carpenter and draughtsman, struggles to find work and has to "go to Centrelink [the equivalent of Winz] every week to be degraded".
Joy Innes, who pauses for a chat outside Penrith City Library, calls herself a "swinger". "I voted Labor in 2010, but only because I like the local man [Bradbury]."
Innes, who nominates "food security and border security" as her most pressing concerns, is "waiting to see some realistic costed policies from both sides" before deciding how to vote this time.
At the markets, held in the grounds of Penrith's Club Paceway, a harness racing track, Scott - who has a regular stall there - looks horrified when the Herald shows up. Liberal candidates in western Sydney have been more or less banned from speaking to the media, including the local Sydney Morning Herald, presumably to avoid any last-minute slip-ups which could tilt the balance in these critical seats.
In the few moments before she is hustled away by Mark Tobin, a Liberal Party minder, Scott talks of a mood for change in Lindsay. "People want to see a good, competent government that will look after their interests," she says. "They've seen their cost of living go up and up under this dysfunctional Labor Government."
According to one of her volunteers, Brian Cartwright, in the past 18 months the team has "done 70 or 80 street stalls, 100 or more train stations and door-knocked 26,000 homes ... I think Fiona's gone through five or six pairs of shoes."
Over at the Labor stall, David Bradbury - assisted by volunteers in blue T-shirts stating "We're better off with Bradbury" - is talking to shoppers and handing out red balloons. A small boy on a scooter steadfastly refuses to take a balloon. Several passers-by wish the MP well for the election, with one warning, somewhat superfluously, that "it's going to be tough".
Compared with Scott, Bradbury is positively expansive - and he refuses to write off his own chances. "I think there's still quite a few undecided voters, even at this point of the campaign. We're definitely in a more competitive position than we were [before Rudd replaced Julia Gillard]. But I'm not wanting to make any Nostradamus-like predictions when we'll know the result in ... a week's time."
And how does he match up to his rival in the sex appeal stakes? "I'll leave that for you to judge. For what it's worth, my wife says I'm still right up there, and that's all that matters to me."
Not so goodie
Opposition leader Tony Abbott came under fire after describing the conflict in Syria as "baddies versus baddies", renewing criticism of his diplomatic credentials.
Abbott described the conflict in Syria as a civil war "between two pretty unsavoury sides".
"It is not goodies versus baddies, it is baddies versus baddies and that is why it is very important that we don't make a very difficult situation worse," Abbott told the ABC.
"Can you imagine him at the G20? 'Barack, it's baddies versus baddies'," said Labor senator Penny Wong.
"I've yet to see a leader of a federal political party wanting to be prime minister who would be this embarrassing when it comes to foreign policy," she said.
- AFP