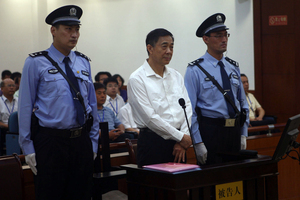 Bo Xilai has rejected an accusation of bribery and said he had been forced to confess to crimes "against his will", as his trial began yesterday.
What was expected to be a carefully scripted show trial came alive in its opening session when, instead of meekly confessing, the 64-year-old former Politburo member disputed the first charge against him.
In response to whether he had received 1.1 million yuan ($229,000) in three payments from a Chinese businessman called Tang Xiaolin, Bo simply said: "No."
Bo said he had admitted the payments when he was being interrogated by the Communist Party's investigators, but that it was "against my will". "Back then, I was not fully aware of the details, my mind was blank."
Perplexingly, considering the political sensitivity of the trial and the extreme opacity that shrouded the proceedings against Bo's wife, Gu Kailai, who was found guilty last year of murdering the British businessman Neil Heywood, and against Wang Lijun, Bo's former police chief, the exchanges from the court were live-tweeted by officials.
It is not unprecedented for senior Chinese leaders to dispute accusations at trial. Both Chen Xitong, the former Mayor of Beijing, and Chen Liangyu, the party secretary of Shanghai, denied various charges at their trials.
But the publication of Bo's proceedings in real time was unprecedented, and presumably designed to convince the Chinese public that Bo will receive a fair hearing.
Another surprise had come earlier in the morning when Bo Guagua, Bo's 25-year-old second son, was dragged into the mire surrounding his father.
"From 2000 to 2012, Bo accepted bribes either personally, or through his wife, Gu Kailai, or his son Bo Guagua ... totalling 21,790,586 yuan," the court heard.
The younger Bo, who has recently enrolled at Columbia University's law school in New York, now looks destined to live the rest of his life in exile.
Aware that protesters had been drawn to the trial, the police in the eastern city of Jinan cordoned off a large area around the courthouse.
Nevertheless, small groups of Bo's supporters held up posters of Chairman Mao and chanted for justice as they waited for the trial to get underway. They were quickly bundled away.
There were 19 journalists inside the court, and leaked memos published by the China Digital Times website suggested that all Chinese media were told to use official Xinhua reports. "Unified plans have been made for related reports; the media must not independently report this information," said one memo.