The people who will decide Australia's next Government want more from their leaders, and they want real answers to the pressing issues that are closest to their hearts.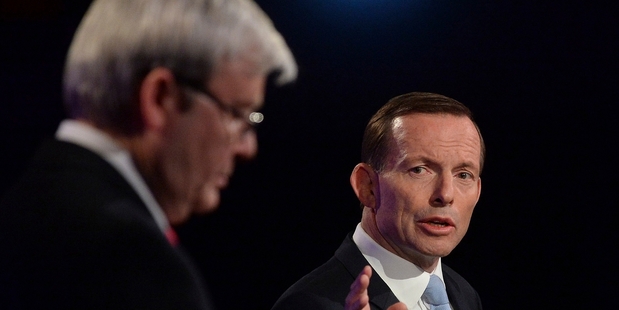 As Prime Minister Kevin Rudd and Opposition leader Tony Abbott campaigned in Sydney and Melbourne yesterday, the real significance of Sunday night's debate between the two became increasingly clear.
This campaign is a war that will be won in the trenches, not in big televised set-pieces.
Commercial TV networks relegated the debate to their secondary channels, where it was largely ignored. A special Morgan poll found that almost half of its respondents did not tune in.
By another measure, AAP reported that the 75,000 tweets sent during the debate peaked at 2010 a minute - less than half the rate during Rudd's June leadership challenge and well below the more than 25,000 a minute sent during the birth of the royal baby last month.
Those who did watch were largely unimpressed, treating the debate as a major yawn that produced little more than hackneyed position statements.
Nor was there a clear winner. Opinion among both political experts and voters was divided, although Morgan found a barely perceptible nudge in Abbott's favour.
Abbott seemed more comfortable, Rudd a bit lost but more prime ministerial.
The people who will decide the nation's next Government want more from their leaders, and they want real answers to the pressing issues closest to their hearts.
Another special Morgan poll released yesterday tested the mood in key western Sydney electorates, where whoever wins the credibility battle is likely to also win the election.
Morgan surveyed voters in the Labor marginals of Greenway and Lindsay, held by a razor-thin majority of about 1 per cent, and the Liberal seats of Macquarie and Macarthur, with margins of 1.3 per cent and 3 per cent.
The seats merge from outer Sydney into rural and farming areas. Much of the population is blue-collar, working in engineering, light industry, manufacturing and retail - all sectors under increasing stress from the slowing economy.
Morgan said the key issues identified in its survey were economic: 50 per cent wanted lower taxes, the carbon tax to be dumped, more jobs, and an easing of the cost of living.
Abbott has a clear advantage when it comes to the economy. Most polling shows the Coalition is seen as the better economic manager, despite refusing so far to detail its strategy.
During the debate Abbott rubbished Rudd's claim that his promises would produce a A$70 billion black hole, but he continued to refuse to say how he intends to make up for the loss of Labor taxes he has promised to axe, while paying for a host of new initiatives.
As well as dumping the mining and carbon taxes - while continuing existing household compensation - Abbott has pledged not to increase GST or launch mass sackings and spending cuts. He has also promised major infrastructure spending.
Rudd has yet to swing many sceptical voters his way. His recent budget update predicted slower growth, rising unemployment, and a A$30 billion budget blowout.
Rudd has narrowed Abbott's lead on the sensitive issue of asylum seekers, he has promised a vote on gay marriage, and Morgan found women favoured Labor over the Coalition.
But polling continues to show that this will not be enough. Yesterday's Newspoll in the Australian confirmed his lead over Abbott as preferred prime minister is slipping, and said the Coalition still had a winning 52-48 per cent margin in the two-party preferred vote that decides Australian elections. Morgan found a 50-50 split of the two-party vote.
How the political pundits saw it
Mark Kenny, the Age: More mock and bore than shock and awe, Sunday's debate was a crushingly dull affair where risk avoidance was the chief aim of both sides. The much-hyped clash of our political titans did nothing to enliven politics nor inspire voters, succeeding rather in reminding us why we're more animated by The X Factor or by arguing the implications for season 2013 from Essendon's creative fitness regimes.
Paul Kelly, the Australian: There was no knock-out blow, no fatal blunder but little inspiration in the Rudd-Abbott debate. While Tony Abbott as frontrunner offered safety and assurance, Kevin Rudd took some calculated gambles to recover lost ground. Rudd's big moves were to inject same-sex marriage as a frontline election issue and to hammer again the great GST scare. Both have a potential upside but reveal a Prime Minister under alarming pressure
Annabel Crabb, ABC: If there are large and painful decisions to be made in this country, as seems increasingly obvious, then the only workable way to make them is if all parties put the national interest above their own. But that would be another kind of debate entirely.
Paul Sheehan, the Sydney Morning Herald: This was a contest it was essential not to lose. So both leaders sent packed defensive formations on to the field. Better a nil-all draw than make a mistake and conceding ground with just 28 days to go. Given the Prime Minister's mantra that Abbott is a walking slogan, all Abbott had to do to prove the lie was match Rudd statistic for statistic and point out that Rudd is leading his attack with fantasy facts.
Slip-ups on campaign trail ...
Tony Abbott
The Opposition Leader yesterday made an unfortunate gaffe as he attacked Prime Minister Kevin Rudd's leadership style. Abbott said the Coalition was a strong and united team, not a "one-man band". He added: "You don't get good decisions from a government if all of the decisions are simply made by one person. No one, however smart, however well-educated, however well-experienced, is the suppository of all wisdom." The saying is supposed to be the repository of all wisdom.
Abbott was bombarded by about 80,000 fake, paid-for Twitter followers over the weekend. The Liberal Party said it had "not purchased or artificially sought to inflate any social media numbers". By Monday morning Abbott had reached 208,357 followers but his numbers dropped to 171,804 last night.
Abbott did come up with one of the funnier lines in the campaign so far at Bondi Beach on Sunday. When asked if he should have appeared in his famous budgie smugglers, Abbott laughed and said: "Election campaigns should be budgie smuggler-free zones".
Kevin Rudd
Rudd has had to play second fiddle to much younger talent at least twice. Last week he was photo-bombed by 5-year-old Joseph Kim. Yesterday 5-month-old Paddy Wilkinson stole the limelight. "Excuse me, don't spit on the Prime Minister," mortified mum Luise Wilkinson told Paddy as Rudd cuddled him in Sydney. "You keep spitting as much as you like," Rudd said. "If you want to dribble and drool, you dribble and drool mate."
Rudd has also suffered through windy press conferences, forcing him to desperately keep his hair in place. In one he adjusted his hair no less than 22 times.
Yesterday he took some flak for using notes at the leader's debate, against the rules. Rudd insists he was never told he wasn't allowed to bring notes.
- AAP