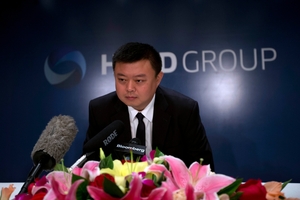 For hundreds of years, people have dreamed of building a canal across Nicaragua, conquering the volatile land of volcanoes and rainforests and breaking Panama's monopoly on global shipping.
Yesterday that dream came a step closer to reality as a Chinese entrepreneur unveiled his route for a 273km, $50 billion waterway from the Pacific to the Caribbean.
If Wang Jing pulls off the feat, it will rank as one of the greatest engineering marvels in history.
Sitting in the offices of his telecommunications company north of Beijing, Wang, 40, is clearly very determined. "I am 100 per cent certain the construction will begin in December 2014 and we will finish in five years in 2019," he said.
He added that while a feasibility report was unfinished, "the framework" of the project had been decided.
Beginning at the Pacific port of Brito, ships will cross Lake Nicaragua, pass the small airport at Morrito before snaking through the jungle towards the Caribbean lowlands and Bluefields, the port on the eastern Mosquito Coast.
The news is likely to dismay environmentalists, who have complained that Lake Nicaragua, already heavily polluted with sewage, could be further harmed by some of the world's largest tankers.
Wang said he would put environmental protection at the heart of the project. The project has raised many eyebrows. Wang has no history of huge infrastructure projects and the engineering challenge is immense.
Wang said he would name his investors in the next two months, but added that all the funds necessary had already been secured from China, Europe and the United States.
"Our investors are big banks and other large institutions," he said.
The Panamanian Government has suggested that the US would hardly be "amenable" to the idea of a Chinese rival to the Panama Canal.
However, a US Department of Commerce official said the US and US investors would be willing to invest in the building of a canal across Nicaragua as long as the process was transparent.
- additional reporting AP