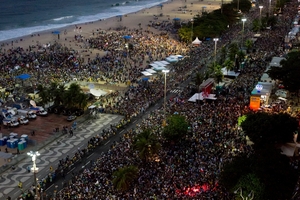 Pope Francis has taken his mission to re-energise his flock to legions of young Catholics on a Brazilian beach, reaching out to those who have lost faith through the failings of the Church.
The Argentine pontiff was greeted by 1.5 million faithful on Copacabana beach for a second straight night of religious ceremonies marking World Youth Day, a week-long gathering of young Catholics.
Latin America's first pope sat in front of a giant cross on a grandiose white stage during a sombre re-enactment of the Stations of the Cross - scenes of a bloodied Jesus heading to his crucifixion.
He used his pulpit to make a political message in a country that was rocked last month by huge protests against corruption, lagging public services and the cost of hosting next year's World Cup.
"On the cross, Jesus is united with so many young people who have lost faith in political institutions, because they see in them only selfishness and corruption," the Pope said.
"He unites himself with those young people who have lost faith in the Church, or even in God because of the incoherence of Christians and ministers of the Gospel," the 76-year-old head of the Vatican said.
The Pope, who was elected in March to reform the Church, was making a veiled reference to the paedophilia and financial scandals that have rocked the Vatican in recent years.
Vatican officials have made no secret of the fact that the Pope's first trip abroad since his election aims to re-energise followers. Brazil remains the world's biggest Catholic country, but the flock has shrunk while Evangelicals gain ground.
Earlier, adoring crowds cheered wildly as an open-top popemobile took him along the crescent-shaped beach famous for skimpy bikinis and caipirinha cocktails rather than Bibles and religious ceremonies.
Rio authorities, meanwhile, have been scrambling to ensure his visit goes more smoothly after several logistical headaches this week.
Rain has poured on the tropical city since the second day of his visit, soaking a field outside the city that was supposed to host hundreds of thousands of pilgrims and the Pope for a weekend vigil and mass.
A giant stage had been built in Guaratiba, but the area turned into a mud field, forcing authorities to move the events to Copacabana. Workers had toiled at the Guaratiba site, dubbed "field of faith", since January.
It was the latest embarrassment for local officials who are preparing for the 2014 World Cup and the 2016 Olympic Games.
- AAP