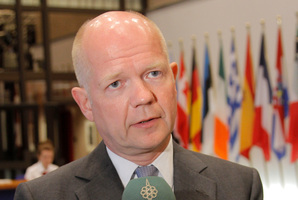 The European Union has declared the military wing of Hizbollah to be a terrorist organisation.
Britain and Holland overturned the EU's previous opposition to the blacklisting, which follows evidence suggesting the radical Shia movement based in south Lebanon was behind a suicide bombing in Bulgaria last year that killed five Israeli tourists and a Bulgarian driver.
Britain's Foreign Secretary, William Hague, welcomed the decision by EU foreign ministers in Brussels, saying: "In reaching this agreement, the EU has sent a clear message that it stands united against terrorism.
"It shows that no organisation can carry out terrorist acts on European soil, such as the appalling attack in Bulgaria one year ago, without facing the consequences."
This measure will freeze funds in the EU linked to Hizbollah's military wing, although it is not clear if that will be a major blow. Hague denied the move would destabilise Lebanon, where Hizbollah's allies are part of the Government.
However, the decision draws a distinction between Hizbollah's military wing and the rest of the organisation. EU countries will still be able to have links with Hizbollah's political leadership and European aid for Lebanon's Government will be unaffected.
A key factor behind the new policy was Hizbollah's intervention in Syria's civil war on the side of President Bashar al-Assad. The decision by all 28 EU members was unanimous, but Spain, Italy and others fear it may destabilise Lebanese politics.