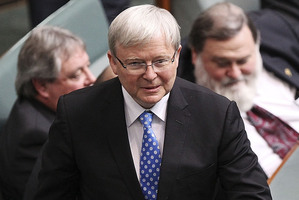 The Australian Labor Party has cleared its decks for the coming election, setting aside other business and raising speculation Prime Minister Kevin Rudd could call an early vote.
Although Rudd appears to have dumped predecessor Julia Gillard's September 14 poll, the surge in support for the Government since his return to power might persuade him to set a date earlier than October, when most commentators thought the election would be held.
A meeting of the party's national executive putting Labor on a campaign footing "from today" is now tipping opinion towards a poll either late next month, or in September.
Rudd has refused to be drawn on a date.
But the party is gearing up to go. National president Jennifer McAllister said after the executive met that Labor was now placed on "a full campaign footing", and that all other business was secondary.
"The day-to-day work of local party branches should now be directed towards campaigning for a Labor win as their immediate priority," she said.
The executive has also given notice it will intervene if necessary to speed up the preselection of candidates in the seats vacated by former ministers resigning after Gillard's defeat.
These include the New South Wales seats of former climate change and schools education ministers Greg Combet and Peter Garrett, the Hotham, Victoria, seat of party elder Simon Crean, and Gillard's outer Melbourne seat of Lalor.
Labor has been galvanised by the runs of polls since Rudd defeated Gillard in the July 26 leadership ballot.
This week a Newspoll in the Australian put the Government and the Coalition in a 50-50 split in the two-party preferred vote that determines Australian elections, and confirmed earlier polls placing Rudd well ahead of Opposition leader Tony Abbott as preferred prime minister.
Yesterday a Morgan poll gave Labor a 52.5 to 47.5 per cent lead in the two-party vote.
Morgan found strong swings to the Government in Queensland and New South Wales, two key states for Labor, and significant improvements in Western Australia and South Australia.
Labor has also captured the votes of the young and middle-aged, leading the Opposition in all age groups between 18 and 49 years.
The Government's resurgence has shaken the Opposition and unsettled Abbott, who refused Rudd's invitation to a debate on the economy at the National Press Club yesterday.