Opposition threatens to play hardball over asylum seekers as Rudd's party surges.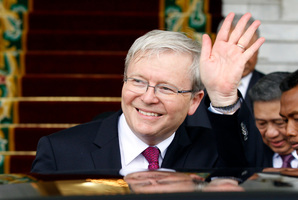 The spectre of the 2001 Tampa crisis - in which the SAS was sent to take over a Norwegian container ship off Christmas Island - has been thrust into the Australian election campaign as the Opposition fights off a resurgent Labor Government.
With two new polls yesterday continuing to place Prime Minister Kevin Rudd within reach of victory after months of despair, the Opposition has recalled the Tampa to service in a chest-thumping promise to turn back asylum seekers at sea.
Immigration spokesman Scott Morrison has said a Coalition Government would not baulk at again sending special forces to end any bid by asylum seekers to take control of vessels that had rescued them.
The escalating row over asylum seekers comes as Rudd launches new measures to prevent Labor leaders being deposed by caucus coup - as were he in 2010 and predecessor Julia Gillard last month - in a bid to reshape the party for the election.
Rudd has already taken over the notorious New South Wales branch in a crackdown on corruption and has now called a federal caucus meeting for July 22 to consider ending its right to elect the leader, replacing it by a vote split 50-50 between MPs and branch members.
Rudd's return to power and the huge burst of oxygen it gave Labor has shaken the Opposition, which has focused sharply on the boatloads of asylum seekers from Indonesia.
After winning office in 2007 Rudd dismantled former Liberal Prime Minister John Howard's tough "Pacific solution", much of which was resurrected by Gillard as rising numbers of boats swamped detention centres.
More than 22,000 have come this year, packing the main detention centre on Christmas Island well beyond its planned capacity. About 700 more are held in camps on Nauru and Manus Island, in Papua New Guinea.
The Opposition has promised to stop the boats in its first term, including a turn-back policy that is opposed by Indonesia.
Last week Rudd and Indonesian President Susilo Bambang Yudhoyono sent Opposition Leader Tony Abbott a veiled warning from Jakarta.
A Newspoll in the Australian yesterday said Labor and the Coalition were now equal in the two-party preferred vote that decides Australian elections, and that Rudd was preferred Prime Minister with a 53-31 per cent lead over Abbott.