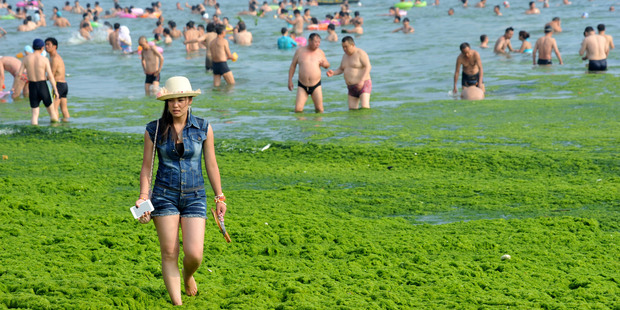 If you've ever been put off taking a dip at the seaside by the colour of the water, spare a thought for beachgoers who have to contend with thousands of tonnes of green algae.
The tangled seaweed lines the shores and floats in the water at a beach in Qingdao in the eastern Shandong province.
Despite the efforts of 10,000 volunteers who managed to clear 20,000 tonnes of the green menace, it keeps on coming back to plague the Chinese beachgoers.
Although the images of people bathing in green algae are striking, the seaweed, known as sea lettuce, is unlikely to do any harm to the swimmers.
It is an an edible seaweed - Enteromorpha prolifera, which is praised for its health benefits. Volunteers will, however, continue to work on removing the seaweed before it rots as it will produce large quantities of hydrogen sulphide.
- Independent