Eyes in sky helping overstretched rangers track down increasingly sophisticated rhino-hunting gangs.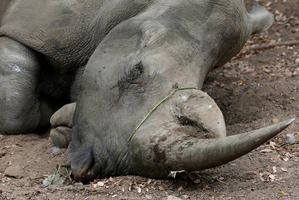 Circling 180m above the ground, its thermal camera trained on the scrubland below, the drone silently watches for its target. When a telltale white blur appears on screen, it will drop closer to earth to confirm the identity of its quarry before summoning armed backup.
But this is not the militant strongholds of Afghanistan or Pakistan. It is the African bush and the target is the critically endangered black rhino and those illegally hunting it.
As the demand for rhino horn soars, driven by buyers in Asia for its reputed medicinal properties, so too does the sophistication of the poachers.
Faced with gangs using helicopters, night-vision goggles and high-powered rifles, those protecting the rhinos are also being forced to up their game.
Last weekend, the Daily Telegraph witnessed the first flight of an unmanned aerial vehicle, or drone, in pursuit of suspected poachers in South Africa.
The small, lightweight, battery-powered Falcon drones can be launched by hand in minutes and fly over a range of 8km for up to 90 minutes. Fitted with high-resolution infrared imaging cameras, they can pick out elephants, rhinos and lions as well as anyone who might be tracking them.
Their operators use statistical analysis of when and where previous rhino killings took place to direct them and rangers close to poaching "hot spots".
Those behind the project hope that by using the military technology, they can help turn the tide in the battle against poachers and a $12 billion wildlife trafficking industry, which, it is now claimed, could be fuelling terrorism. In December, the US upgraded wildlife trafficking to a national security threat amid reports that poaching helped to fund, among others, al-Shabaab militants in Somalia.
In South Africa, home to most of the continent's rhinos, the war against poachers is being lost.
Since 2007, with a growing middle class in China, Vietnam and Thailand buying ground rhino horn to treat ailments ranging from cancer to "devil possession", rhino deaths have risen by 3000 per cent.
In 2011, 448 South African rhinos were killed. So far this year, 350 have died and it is projected the toll will reach 750 by December.
On Sunday, the Falcon drone was deployed for the first time in a private reserve inside the country's flagship national park, the Kruger, after suspected poachers wielding AK47s fired on two rangers. The rangers were unharmed but one found a bullet lodged in his hand-held radio after the attack.
Directed from a laptop and games console on the ground, the Falcon's camera sent back pictures of the bushland below, its thermal imaging picking out giraffes, impala and people.
But of the poachers, there was no sign.
"They took their shoes off so we couldn't track which way they went, and they're probably over the fence by now," said Craig Spencer, the chief warden for the Olifants West game conservancy.
Spencer said the poachers were often one step ahead.
"Many of these guys are former Mozambican rebel fighters who come over the 400km border to the east. They're carrying R5 assault rifles that you can only get from the South African military. They booby-trap rhino carcasses. Some suspects stopped recently had bodyguards with them.
"I have nine people to defend 10,000ha. If we try to fight it using the same rusty old toolbox, we are going to lose.
"We need to use technology. This drone has the potential to become the most valuable tool we have."
Military technology comes with a price tag and some governments are nervous about allowing its unrestricted use within their airspace.
Chris Miser, a former US air force engineer who maintained America's drone fleet in Iraq, has sought to solve this by using civilian materials for the Falcon and making the aircraft short-range. Critically for such remote areas, it can be operated by a ranger and is easy to repair.
The drone costs US$23,000 ($28,500) including the camera, ground control equipment and training factored in - roughly equal to one ranger's annual salary. "This will do the job of at least 10 rangers on the ground and make the ones you do have more effective," said Miser.
Factors to be considered include where rhinos like to graze, where they were killed before, the phases of the moon, the weather, the time of day and week to determine where and when poachers will strike next.