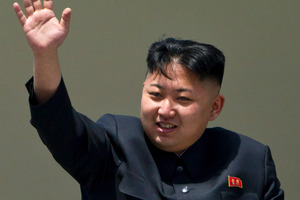 Kim Jong Un reportedly fathered a baby girl in 2010 with an unknown woman, more than two years before his wife gave birth to their first child.
Kim is believed to have married Ri Sol Ju in 2009 but she only began to emerge alongside the young North Korean leader in July 2012.
The Chosun Ilbo newspaper reported a surge in imports of high-end Swiss and German baby products ahead of the birth of the couple's baby but suggested there was uncertainty about whether it would be a boy or girl.
There have been no reports from within North Korea about the birth of either of Kim's daughters, which analysts attribute to the ongoing three-year official period of mourning for Kim's father, Kim Jong Il, who died in December 2011.
Kim Jong Il also had a complicated personal life and is understood to have been officially married only once, but to have had at least three mistresses.
As well as Kim Jong Un, Kim fathered two other sons and two daughters.
Dennis Rodman, the former United States basketball star who visited Pyongyang at Kim's invitation in February, said Ri talked at length about her "beautiful baby daughter".
Kim, however, is likely to want to father a son and heir in order to continue the world's only communist dynasty.