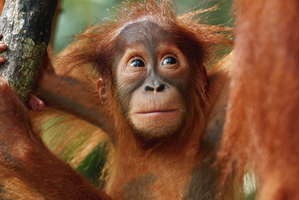 Some childhood playmates turn out to be friends for life. For others, there comes a time when they simply outgrow each other.
For most of their six years on the planet, Emily Bland and Rishi the orangutan have been an unlikely double act enjoying picnics, games and the occasional rough and tumble.
But now, they are being forced to, well, grow apart, because Rishi's keepers think he will soon be too big and powerful to play with his human friend. At 4st 9lb, the orangutan is already able to pick up a fully-grown human, and his weight is expected to double within 18 months.
Back in 2008 when they met, the pair were barely two years old and Emily was much bigger than Rishi. They were introduced at an animal reserve in the US when Emily's photographer father, Barry, took his daughter along on an assignment. Rishi and Emily stunned everyone with their instant rapport, and since then Mr Bland, 42, has taken his daughter on several trips to visit her friend.
This time, the pair were reunited for one last picnic at Rishi's home in South Carolina and played for hours in the sunshine. Emily, from St Albans in Hertfordshire, made sure Rishi had his lunchtime banana before they splashed about in a fountain.
Mr Bland said: "The first time they met, they just sat and played together it was really cute." She's been really excited about seeing him again. Dr Bhagavan Antle of Myrtle Beach Safari, where Rishi lives, said: "Its the modern day story of the Jungle Book. But orangutans grow up very rapidly, and Emily isn't growing up as quick. Rishi is already very strong."
"He's not aggressive at all, but it may be too much to expose them to each other in a years time."
However, Rishi's carers say he is already a whizz at the computer so Emily hopes to keep in touch via webcam.
- Daily Mail