Independent MP calls for referendum on gay marriage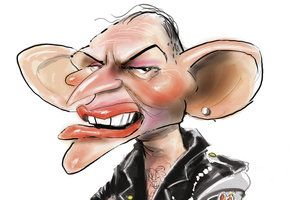 It's a painful process, outing yourself from the political closet.
So spare a thought for Tony Abbott, prime minister in-waiting and chief protector of the ideal that marriage should remain firmly between a man and a woman.
These days traditionalists like the Australian Opposition leader are feeling increasingly isolated. Fewer voters oppose homosexuals getting hitched than approve of his leadership, which, when you look at those underwhelming ratings, says a lot.
At home Tony gets it in the ear from his daughters and lesbian sister. When he goes to work there's a growing list of fellow conservatives who've retuned their gaydar.
This week the fitness-mad career politician tried to get away from it all by taking part in a seven-day charity bike ride.
He'd barely loosened up when an apparently well-meaning MP put yet another spanner in the spokes by calling for a referendum on same-sex marriage.
Tony might have been resplendent in brightly coloured figure-hugging lycra that wouldn't look out of place on a Sydney Mardi Gras float.
But he still looked decidedly fidgety being forced, yet again, to revisit what he regards as an annoying distraction.
After all, before New Zealand legalised gay marriage, the debate in Australia seemed stuck in a perennial holding pattern.
Last year Abbott played a pivotal role as MPs torpedoed a similar bill in Canberra, effectively neutralising the issue ahead of this September's federal election.
But the songs and tears of joy in Wellington have provided renewed impetus to the campaign across the Ditch.
Over the last fortnight there has been a sense of co-ordinated pressure being brought to bear on the Opposition leader; pressure that may leave him with little room for manoeuvre after his expected election as PM on September 14.
Two Liberal Party state leaders have spoken publicly in favour of allowing federal MPs the conscience vote they were denied by Abbott last year.
Western Australia premier Colin Barnett remains personally opposed to gay marriage, but his NSW counterpart Barry O'Farrell has had the kind of conversion reflected in opinion polls.
"As a Liberal who believes that commitment and family units are one of the best ways in which society is organised, I support the concept of same-sex marriage," he says.
This week Tony Windsor, one of the independent MPs who has propped up Julia Gillard's minority Labor government, said the matter should be put to a referendum on election day.
It was a call that angered and wrong-footed equality advocates, and received the loudest roars of approval from those most opposed to change, like the powerful Australian Christian Lobby.
Rev Fred Nile, a firebrand senator in the NSW state parliament, regards it as the "most important issue facing the nation".
He homed in on the wording of the question. Rather than "marriage equality", he said, voters should be asked if they were in favour of two homosexual men getting married.
And lesbians? "The main drive behind this issue are the male homosexuals," he told Fairfax Media. "I think that is the crucial issue and we should focus on that."
Nile's intervention reinforced fears among equality campaigners that a referendum would provide opponents with an unprecedented opportunity to publicly vilify gays and lesbians, and polarise community opinion.
If that seemed like an ill-thought way to affect historic social change, Windsor's plan also stumbled on most practical levels.
A referendum would require a majority of people in a majority of the states to vote to change the constitution. The last time they were asked to do that, in 1999, well-funded and highly-organised monarchists wrecked any dreams of Australia becoming a republic.
"John Howard and Tony Abbott ran a very good fear campaign and we lost that referendum," said Penny Wong, the openly gay government frontbencher.
On the other hand, a plebiscite on same-sex marriage would not be binding on politicians, who would still have to vote to alter the Marriage Act in parliament.
Which begs the question: why would the normally astute Windsor flag such a self-defeating and doomed-to-failure proposal?
In the wake of the New Zealand vote, he watched as Abbott responded to pressure from within his own ranks and moved ground on the issue. After the September poll, Abbott said, it would be up to his party room to decide if MPs get a conscience vote.
It was a subtle but significant shift, and largely pragmatic. Abbott's minders want no distractions in an election campaign that will focus almost exclusively on the Gillard government's failings.
Windsor always knew there was no way his election day referendum would fly. But he also knew reporters would interrupt the bike ride and give the Coalition leader the chance to reject it.
When first asked, Abbott dodged the question. Pressed further, he said: "If there's ever to be a plebiscite on this subject it should be held quite separate from a federal election."
The door is opening for sure, but no one's quite sure if Tony ever intends to come out.