Account of attack adds to uncertainty about claims nerve gas used.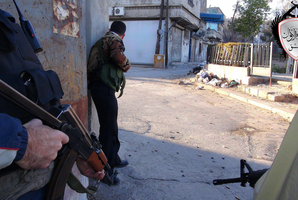 New questions have emerged over the source of the soil and other samples from Syria which, it is claimed, have tested positive for the nerve agent sarin, amid apparent inconsistencies between eyewitness accounts describing one of the attacks and textbook descriptions of the weapon.
As questions from arms control experts grow over evidence that the Assad regime has used chemical weapons on a limited scale on several occasions, one incident in particular has come under scrutiny.
While the French, British and US governments have tried to avoid saying where the positive sarin samples came from, comments by officials have narrowed down the locations to Aleppo and Homs.
Last week the Obama Administration suggested that Syrian government forces may have used the lethal nerve gas in two attacks. Opposition fighters have accused regime forces of firing chemical agents on at least four occasions since December 2012, killing 31 people in the worst of the attacks.
A letter from the British Government to the UN demanding an investigation said that it had seen "limited but persuasive evidence" of chemical attacks, citing incidents on March 19 and 23 in Aleppo and Damascus and an attack in Homs in December, suggesting strongly that samples were taken at these locations.
A US defence official, who spoke to the Los Angeles Times, appeared to confirm that one of the samples studied by the US was collected in December - suggesting that it too originated in Homs.
According the US Centres for Disease Control and Prevention, "sarin is a nerve agent that is one of the most toxic of the known chemical warfare agents. It is a clear colourless liquid ... generally odourless and tasteless".
But eyewitness accounts of that attack, in which six rebels died and which were reported at the time by the Associated Press described "white smoke" pouring from shells that "smell[ed] ... like hydrochloric acid".
The suggestion that one of the sarin-positive samples may have originated in Homs has added to the growing confusion surrounding the claims made with different degrees of caution by governments in recent days.
Meanwhile, questions are increasingly being asked about weapons and money being supplied to Islamist rebel groups in Syria by sympathetic Arab states, amid growing fears that they are falling into the hands of extremists.
Qatar and Saudi Arabia are among the countries whose support for the uprising against Assad's regime has won plaudits from many in the region. But signs that arms and cash may be filtering through to groups such as the al-Nusra Brigade, which has declared allegiance to al-Qaeda, are alarming Western observers.
As the West has hesitated over providing military assistance, non-sectarian elements of the rebel Free Syrian Army are being outflanked and outgunned by better-funded Islamist fighters, including foreign jihadists.
Sheikh Hamad bin Jassim al-Thani, Qatar's Prime Minister, said recently: "As there is no clear international opinion to end the crisis in Syria ... we are supporting the opposition with whatever it needs, even if it takes up arms for self-defence."
But by focusing support on Islamist groups, Qatar and Saudi Arabia are seen by many to be playing with fire.
"The fear is that both the Saudis and the Qataris are competing for influence in Syria by pouring in support to rival groups of jihadist fighters, and that Syria is descending into the depths of hell as a result," said Simon Henderson, of the Washington Institute for Near East Policy.
Engagement with Syrian rebels is seen as part of an effort by the Emir of Qatar to acquire greater influence, assisted by the riches from the world's largest natural gas fields off its coast.
Last year, he gave about $500 million aid to Gaza, the territory controlled by Palestinian militant group Hamas. This month, Qatar announced a $3.6 billion aid package for Egypt.
- Observer, Telegraph Group Ltd