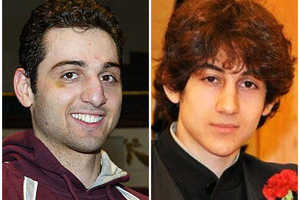 Tamerlan Tsarnaev was an amateur boxer with muscular arms and enough confidence to arrive at a sparring session without protective gear. His younger brother Dzhokhar was popular in school, won a city scholarship for college and liked to hang out with Russian friends.
Overnight, two young men previously seen only in grainy camera images were revealed Friday to be ethnic Chechen brothers suspected in a horrific act of terrorism. Tamerlan was dead, and his 19-year-old brother was taken into custody after a furious manhunt that shut down much of Boston. He was found hiding in a boat in someone's backyard.
But the details so far have shed precious little light on the most vexing question: Why would two brothers who came to America a decade ago turn on their adopted home with an attack on the world's most famous marathon?
The Tsarnaev family arrived in the United States, seeking refuge from strife in their homeland.
"Why people go to America? You know why," the father, Anzor Tsarnaev, said in an interview from Russia, where he lives now. "Our political system in Russia. Chechens were persecuted in Kyrgyzstan, they were problems." The family had moved from Kyrgyzstan to Dagestan, a predominantly Muslim republic in Russia's North Caucasus that has become an epicenter of the Islamic insurgency that spilled over from the Chechnya region.
The father set up as an auto mechanic, and the two boys (there were two sisters, too) went to school. Dzhokhar attended the Cambridge Rindge and Latin school, a prestigious public school just blocks from Harvard Yard.
From there, the boys' paths diverged somewhat at least for a while.
Tamerlan, who was 26 when he was killed overnight in a shootout, dropped out after studying accounting at Bunker Hill Community College for just three semesters.
"I don't have a single American friend. I don't understand them," he was quoted as saying in a photo package that appeared in a Boston University student magazine in 2010.
He identified himself then as a Muslim and said he did not drink or smoke: "God said no alcohol." He said he hoped to fight for the US Olympic team and become a naturalised American.
As a boxer, he was known for his nerve. "He's a real cocky guy," said one trainer who worked with him, Kendrick Ball. He said the young man came to his first sparring session with no protective gear. "That's unheard of with boxing," Ball said. But he added: "In this sport, you've got to be sure of yourself, you know what I mean?"
More recently, Tamerlan married, with a young daughter became a more devout Muslim, according to his aunt, Maret Tsarnaeva. She told reporters outside her Toronto home that the older brother had taken to praying five times a day.
In 2011, the FBI interviewed Tamerlan at the behest of a foreign government, a federal law enforcement official said, speaking anonymously. The officials would not say what country made the request or why, but said that nothing derogatory was found.
Tamerlan travelled to Russia last year and returned to the US six months later, government officials told The Associated Press. More wasn't known about his travels.
Albrecht Ammon, 18, lived directly below the apartment of the two suspects. He said he recently saw Tamerlan in a pizzeria, where they argued about religion and US foreign policy. He quoted Tsarnaev as saying that many US wars are based on the Bible, which is used as "an excuse for invading other countries."
During the argument, Ammon said, Tsarnaev told him he had nothing against the American people, but he had something against the American government. "The Bible was a cheap copy of the Koran," Ammon quoted Tsarnaev as saying.
According to law enforcement records Tamerlan was arrested, in 2009, for assault and battery on a girlfriend; the charges were dismissed. His father told The New York Times that the case thwarted Tamerlan's hopes for US citizenship.
Meanwhile, the mother of the suspects, Zubeidat Tsarnaev, was heard from only in an audio interview broadcast on CNN, calling the accusations against her sons a setup. She said she had never heard a word from her older son about any thinking that would have led to such an attack. "He never told me he would be on the side of jihad," she said.
Her younger son was described by friends as well-adjusted and well-liked, though at some point in college, his academic work reportedly suffered greatly.
"I'm in complete shock," said Rose Schutzberg, 19, who graduated with Dzhokhar. "He was a very studious person. He was really popular. He wrestled. People loved him."
In fact, Schutzberg said, she had "a little crush" on him in high school. "He's a great guy," she said. "He's smart, funny. He's definitely a really sweet person, very kind hearted, kind soul."
Dzhokhar was on the school's wrestling team. And in May 2011, his senior year, he was awarded a US $2,500 scholarship from the city to pursue higher education, according to a news release at the time.
He was attending the University of Massachusetts at Dartmouth, Massachusetts, university officials said Friday. Harry Danso, who lives on the same floor, told the AP he saw him in a dorm hallway this week.
"He was regular, he was calm," said Danso.
The school would not say what he was studying. The father of the suspects, Anzor Tsarnaev, told the AP his younger son was "a second-year medical student," though he graduated high school in 2011.
"My son is a true angel ...," he said by telephone from the Russian city of Makhachkala. "He is such an intelligent boy. We expected him to come on holidays here."
Still, The New York Times reported that a college transcript revealed that he was failing many of his college classes. In two semesters in 2012 and 2013, he got seven failing grades, including F's in Principles of Modern Chemistry, Intro American Politics, and Chemistry and the Environment.
Dzhokhar's page on the Russian social networking site Vkontakte says that before moving to the United States, he attended School No. 1 in Makhachkala, the capital of Dagestan, and he describes himself as speaking Chechen as well as English and Russian. His world view is described as "Islam" and he says his personal goal is "career and money."
Deana Beaulieu, 20, lives two blocks away from the suspects' home, went to school with Dzhokhar and was friendly with his sister.
Beaulieu says she doesn't recall Dzhokhar expressing any political views. "I thought he was going to branch off to college, and now this is what he's done. ... I don't understand what the hell happened, what set him off like this."
Florida Addy, 19, said she lived in the same college dorm with Dzhokhar this year. She called him "drug" (pronounced droog), the Russian word for friend, a word he taught her.
Addy said she saw Dzhokhar last week, when she bummed a cigarette from him. They would occasionally hang out in his room or at the apartment of Russian students he knew.
She described him as down to earth and friendly, even a little mysterious, but in a charming way. She had just learned that he had a girlfriend, although she did not attend the university.
"He was nice. He was cool. I'm just in shock," she said.
Dzhokhar's uncle, too, was surprised by his suspected involvement in the attack much more, he said, than by his brother's. "It's not a surprise about him," Ruslan Tsarni, who lives in Maryland, said of Tamerlan. "The younger one, that's something else." He said the family had placed all its hopes with Dzhokhar, hoping he would be a doctor.
Another uncle, Alvi Tsarnaev, told news organisations that Tamerlan had called him Thursday night hours before his firefight with police and the two spoke for the first time in two or three years. He said the young man asked for forgiveness for the rift in the family.
"He said, 'I love you and forgive me,"' the uncle said.