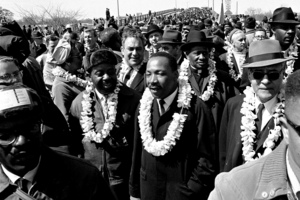 The advice from the front office at East Side High in Cleveland, Mississippi, is clear. Lurk in the corridor with the kids and the school principal, Dr Randy Grierson, is bound to show up shortly.
With boisterous laughter, the lady adds: "You can't miss him - he is the only Caucasian adult in the building!"
It helps to have a sense of humour if you're an African-American here in the Mississippi Delta, an area famous for its pockets of grinding poverty and racial discrimination that some say has barely dissipated in 50 years.
How else could you respond to the news, for example, that Mississippi ratified the 13th Amendment to the US Constitution abolishing slavery only in February?
As with everything involving race in these parts, there is more to the slavery amendment saga than meets the eye. The Mississippi legislature voted to ratify the amendment in 1995, but somebody forgot to finish the paperwork. (Never mind that it dates back to Abraham Lincoln.) It applies equally to the not-so-small legal brouhaha surrounding this school and its sister institution 2km to the West, Cleveland High.
Cleveland High is racially integrated while East Side High is, well, not.
On the job for 18 months now, Grierson is the first white principal East Side has had. The pictures of graduating student bodies for the past several years hanging in the corridor outside his office show row upon row of proud young faces, all of them black.
It has been nearly 60 years since a 1954 US Supreme Court ruling, Brown v Board of Education, outlawed racial segregation in America's schools, so the question to Grierson is obvious. How many whites are enrolled in his school?
"Zero," he replies flatly. (A few do attend on a day-to-day basis to study for the international baccalaureate but none come here full-time.)
It is a state of affairs the US Justice Department deems intolerable. Government lawyers have gone to court asserting that the Cleveland School District must "fully dismantle its racially identifiable one-race schools". For its part, the district argued in a motion filed two weeks ago, seen by the Independent, that it is already erasing so-called "attendance zones", whereby students generally went automatically to the schools close to where they lived and introducing "open enrolment", allowing parents to send their students to either school regardless of their race.
Indeed, the tone of the court motion, dated March 18, is almost defiant. "The progress the district has made in it's integration efforts has been nothing short of remarkable," it asserts. The lawyers for the district make it clear, moreover, that were they to heed the government and consolidate the two schools completely - the racial mix in each would then be roughly 75 per cent black and 25 per cent white - the result would be the kind of white flight that has afflicted public schools all across the Deep South.
White families, they warn, would either move their children to private or church schools or they would leave Cleveland entirely.
Understand that and you also understand why the government believes that the segregation that still exists in Cleveland is no accident but is being perpetuated deliberately. Nor does it buy that "open enrolment" would do much of anything to help.
"Cases like this should really be in the history books, not in the courtroom," former Deputy Attorney- General Thomas Perez, now nominated to be US Labour Secretary, said recently with a touch of exasperation.
He added: "It is intolerable for districts to continue operating schools that retain their racial identity from the Jim Crow era," a reference to the laws that formally segregated the South for almost 90 years to 1965.
The conflict is a reminder that even though this week will see the 45th anniversary of the assassination of Dr Martin Luther King in Memphis, America's efforts to get beyond Jim Crow are still not over.
Indeed, right now the Supreme Court is being asked to decide whether it's time finally to scrap two legacies of that time: affirmative action allowing racial quotas for college admissions, and Section 5 of the 1965 Voting Rights Act which affects several states, including Mississippi, Georgia, Louisiana and Texas, all of which have histories of impeding minority citizens from casting votes under federal electoral supervision.
This state still cannot introduce even minor changes in its voting or election laws without Washington's approval.
The court will deliver its rulings in June. For some in Mississippi, the notion that it cannot be trusted still to treat all its citizens equally regardless of colour is infuriating.
"Reality often doesn't matter when the topic of discussion is civil rights in Mississippi," Sid Salter, a syndicated columnist in the state complains.
"The stereotype blots out reality, obscures it, and makes it difficult for those who want to move the state forward." That stereotype, of course, is that Mississippi is, as he puts it, "backward, insular, racist and ignorant". He forgets "ultra-conservative".
Here in Cleveland, the schools debate is made more poignant by geography. East Side High and Cleveland High are separated by what used to be the tracks of the Illinois railroad which cut right through town. Today they have been beautified as a pedestrian promenade. But their old racial significance - white and privileged on one side, black and oppressed on the other - still lingers in the minds of many who live here.
"Segregation is still going on," contends Sandra Stacye, 43, whose 19-year-old daughter Marshekia graduated from East Side High last year. "They used to say it had to do with which side of the tracks you lived on and, well, it's still true. All of that is still going on." Independent