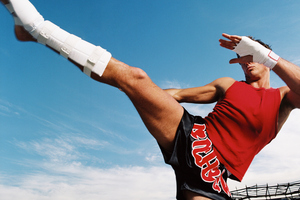 Plans to hold a kick-boxing tournament at Gallipoli on the eve of Anzac Day have been slammed as "totally inappropriate" by the Royal New Zealand Returned and Services' Association.
Turkish-Australian kickboxing promoter Tarik Solak plans to match fighters from New Zealand, Australia and Turkey against the "rest of the word" on April 24, an event which he believed could attract up to 20,000 fans, the Herald Sun reported.
He told the newspaper the event should not be seen as disrespectful to those who fought at Gallipoli.
He was travelling to Turkey this weekend to make arrangements with local authorities.
New Zealand RSA national president Don McIver said he would be amazed if Turkish authorities allowed such an event to go ahead.
"The RSA would totally oppose any proposal of that nature. I think it's totally inappropriate both for the time and the location. In my view, any attempt that he makes to get the authorities to agree is likely to fail because I think the authorities understand the nature of the commemoration, and of course they're involved in it, too. I don't think they'd want to see it used in this way at all."
Australia and New Zealand play an annual Anzac rugby league test around the time, but Mr McIver said the kickboxing event would be different.
"I think that with other sporting events that do occur on or around Anzac Day in the home countries, Australia and New Zealand, there is a significant commitment to the commemorative element. I think it's totally different to suggesting something that's held on the Gallipoli Peninsula."
The Australian Returned and Services League has also expressed its opposition to the proposal.
- APNZ