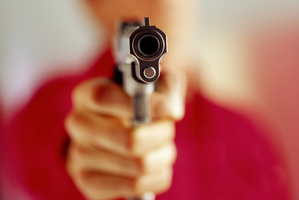 A coroner is calling for an overhaul of Britain's gun laws after police shortcomings allowed a man with a history of domestic abuse to kill three members of his family.
Coroner Andrew Tweddle said he was writing to Home Secretary Theresa May to call for reform of the laws governing the weapons licensing following the inquest of a taxi driver who murdered his partner, her sister and niece before killing himself on New Year's Day last year. Shadow Home Secretary Yvette Cooper echoed the demands, urging May to act to prevent men with a history of domestic violence from holding guns.
A separate investigation by the Independent Police Complaints Commission accused Durham Constabulary of demonstrating a reprehensible lack of intrusive inquiries leading up to the rampage.
Michael Atherton had a history of heavy drinking and domestic abuse but had had his weapons returned to him in September 2008 weeks after they were confiscated following threats to blow his head off. IPCC commissioner Nicholas Long said the inquiry had identified blunders and poor practice in the force's handling of the case.
He said Durham Constabulary missed chances to assess Atherton's suitability to remain a gun owner.
Mr Tweddle returned a verdict of unlawful killing and suicide. Atherton, 42, used a shotgun to kill his partner, Susan McGoldrick, 47, her sister, Alison Turnbull, 44, and Ms Turnbull's daughter, Tanya, 24, following a drunken row.
The Independent