Investigative journalist believes convicted killers framed by police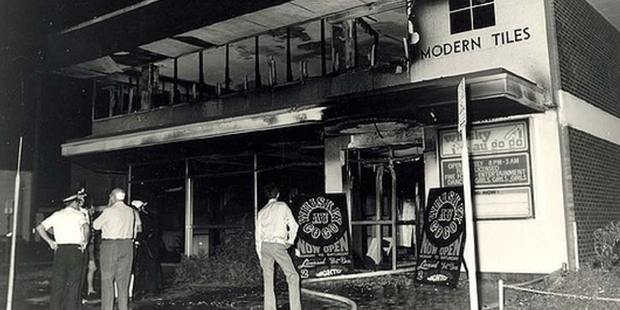 Forty years after 15 people died in the firebombing of Brisbane's Whiskey Au Go Go nightclub, controversy and conspiracy theories still surround what was until the Port Arthur massacre, Australia's worst mass murder.
Two men were convicted of pouring drums of diesel into the foyer of the Fortitude Valley club: one died in prison, the other was deported back to Britain after serving 15 years of a life sentence for murder.
But this week an independent Queensland MP handed new evidence to State Attorney-General Jarrod Bleijie, based on information gathered by award-winning investigative reporter Tony Reeves.
Reeves believes the convicted killers, James Richard Finch, and John Andrew Stuart, were framed by police and that the Whiskey Au Go Go tragedy was part of an insurance fraud linked to a number of other nightclub fires.
MP Peter Wellington had originally intended to name others allegedly involved in the Whiskey Au Go Go in the State Parliament on Thursday, but decided to hand the evidence to Bleijie and call for a coronial inquiry.
The firebombing was horrific.
Shortly after 2am on March 8, 1973, about 100 patrons and staff were rocking to the band Trinity when Finch poured two 23-litre drums of diesel into the foyer, tossed a match into it and ran.
Within seconds the nightclub was an inferno. The stairway was blocked by a fireball that pumped choking smoke into the upstairs bar and dance floor.
Terrified patrons smashed windows and jumped 5m to the ground. Others fled to the fire escape, but the door had been greased and refused to open.
Most victims died of asphyxiation at the doorway. Two members of Trinity became entangled in wires and died.
Within a week police had arrested Finch and Stuart. British-born Finch had been jailed for 14 years in 1966 for shooting another Sydney man with an unlicensed gun. Described as an associate of some of Sydney's most violent thugs, he was paroled after seven years.
Stuart also had a long and violent criminal history, with convictions for assault with a knife, burglary, car theft, escaping from custody and malicious wounding.
The pair had met in prison. According to police Finch had later gone back to Britain, but returned at Stuart's invitation to extort money from Brisbane nightclubs.
Their trial was as sensational for its drama as it was for the nature of the crime. At one stage Finch and Stuart had to be restrained in the dock.
They claimed they had been set up by corrupt police. Finch said he had been beaten and presented with a written confession to sign. Police said Finch had confessed to them, implicating Stuart.
During the trial Finch bit off and ate the tip of a little finger, and swallowed wire. The trial was delayed when he was considered unfit to appear.
Stuart stitched his lips with paper clips and needed five operations to remove wire he had swallowed. He was in hospital when he was sentenced.
Neither gave up protesting his innocence, launching a series of unsuccessful appeals and finally appealing unsuccessfully to the Privy Council in London.
Stuart died in prison in 1978, aged 38, after a six-day hunger strike.
Finch fell in love with and married Cheryl Cole, a wheelchair-bound woman suffering a terminal condition. They divorced in 1991.
In 1988 Finch was released from jail and deported to Britain, where he told the Sun newspaper that despite his protestations of innocence he had poured the fuel into the Whiskey Au Go Go on the instructions of a corrupt police officer.
He later again denied the crime, telling Nine Network's A Current Affair he had been "brainwashed". But doubts remained over the case.
Much was built around an unsigned confession by Finch, which he claimed had been fabricated. A former cellmate later retracted testimony that Finch had confessed the crime to him, and the 1980s Fitzgerald Inquiry into police corruption also heard damning evidence.
Police officers told ABC's Four Corners programme they had seen Finch being "verballed", as he had claimed.
Reeves told the Age newspaper he believed Finch and Stuart had been framed for what had been an insurance fraud, manipulated by bent police.
He said in November 1972 liquidators had been appointed to Whiskey Au Go Go and the Chequers club. He called for a new investigation into a series of other nightclub fires, and said he had information showing a link between a deceased former senior police officer and the 1973 firebombing of a club called Torino's.