President will underline resolve to deliver on growth promises and grasp thorny issues.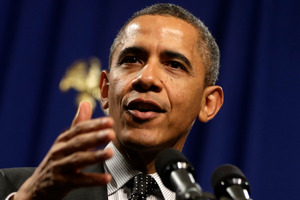 An emboldened President Barack Obama will serve notice to his foes on Capitol Hill today that he means to get his own way in his second term and deliver on promises to spur growth and tackle tricky issues ranging from climate change to guns, immigration and nuclear arms.
The annual State of the Union Address gives Obama the opportunity to lay down markers for his entire second four-year term. He is certain to emphasise giving the still-sluggish recovery much-needed oomph with new spending initiatives, such as on education, clean energy and infrastructure.
As he stands before Congress - and millions of Americans at home - Obama may pay lip-service to bi-partisanship and he will doubtless attempt to offer a balance between new spending and deficit-cutting discipline. But most observers expect him to build on the aggressively partisan - and progressive - tone of his inaugural address of three weeks ago, never mind the inevitable disgust he will stir among Republicans.
Indeed, almost more anticipated than Obama's speech is the traditional Republican rebuttal.
This time it will come from Senator Marco Rubio of Florida, regarded by some as a future saviour of the Republican Party and possible 2016 presidential candidate.
The path ahead is strewn with perils and opportunities for Obama, who still faces a House of Representatives controlled by Republicans. He is again staring at a new fiscal abyss with US$1.2 trillion ($1.4 trillion) in spending cuts due to be automatically triggered on March 1 if he can't persuade Republicans to embrace a deficit-reduction deal that includes cuts in spending and increases in tax revenues.
On that front and others, difficult arguments loom. The Republicans want social-spending cuts beyond what most Democrats can stomach. They assuredly will resist the additional tax increases on the rich that Obama seeks and mean to stand in his way on banning assault weapons and high-capacity gun clips.
The White House, however, sees broad public support. A Quinnipiac University poll yesterday showed that by a wide margin Americans want the economy to be the focus of his speech. "Voters trust President Obama more than congressional Republicans on the economy and most other issues," Peter Brown, assistant director of Quinnipiac polling, said.
Officials have meanwhile indicated that Obama is poised to circumvent Congress to take action on several fronts by executive order. This could include giving new workplace rights to gay and lesbians, enacting curbs on factory emissions and taking steps to spur the housing market. A group of celebrities including Alec Baldwin, Morgan Freeman, Susan Sarandon and Woody Harrelson signed a letter urging Obama to make global warming a top priority of his second term.
Obama will hit the road after the speech to try to garner public support for the main planks of his programme. The White House says he will give three campaign-style speeches before the weekend.
As he begins his second term, he is being cheered by liberals for his progressive stance on social and climate issues, but the same people are voicing concern over his national security conduct. Tensions have flared since the release last week of a previously secret memo giving Obama permission to kill US citizens by drone strike if seen as a terrorist threat. While foreign relations may be skated over today, officials have indicated he will revive his pledge of nearly four years ago to make reducing nuclear arsenals globally a new priority.
The year ahead
Gun control: President Barack Obama will remind Congress of what happened in Connecticut and urge it to enact a ban on assault weapons and high-capacity clips and tighten background checks. There are signs Republicans may agree to new background-check rules, including at private gun fairs. The bans on big guns and big clips look likely to falter.
The economy: He will insist that austerity measures to cut the deficit must be offset by stimulus spending to get the economy moving. Republicans are against new spending unless Obama offers serious cuts in social safety net spending. But if money becomes available for roads and bridges in their districts, that might change.
Immigration: Obama wants immigration reform to happen now, notably giving the 11 million in the US illegally a path to eventual citizenship. Senator Marco Rubio may be ready to budge on immigration.
- Independent