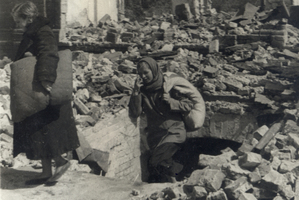 The events of a day 70 years ago this weekend will remain forever etched into the memory of Pyotr Alkhutov.
After months of unimaginable horrors in one of the fiercest and darkest battles of World War II, the Red Army retook control of Stalingrad.
Alkhutov was one of the first to enter the cellar under Stalingrad's main department store, where Adolf Hitler's Fieldmarshall, Friedrich Paulus, surrendered.
The Soviets had won a decisive victory that turned the tide of the war, and Alkhutov was ordered to guard the captured Nazi leader.
He went on to fight in a number of key battles, all the way to the march on Berlin in May 1945, but he always remembered Stalingrad as the worst of the worst.
"It was 200 days and nights that you can never forget. I still see those scenes in my head all the time.
Those things never leave you."
Today, a costumed reenactment of Paulus's capture will take place in Volgograd, as the city is now called, and on Sunday, huge ceremonies are planned to mark 70 years since the official surrender of the Nazis. For many of the 900 veterans of the battle who still live in the region, it will be the last major anniversary they will be alive to commemorate.
The battle still permeates the collective psyche of Volgograd, whether in memories of the bitter suffering, pride at the heroics of Soviet soldiers, or political capital exploited by politicians.
President Vladimir Putin is due in Volgograd to mark the anniversary, and veterans have appealed to him to hold a referendum on renaming the city Stalingrad. Yesterday, Putin was handed a petition signed by 50,000 people calling for the city to be renamed. "We fought to save Stalingrad, and that's what the city should be called," says Alkhutov.
In addition to affection for the city's old name, there is also nostalgia for Joseph Stalin himself, especially among the older generation.
Behind the Mother Russia memorial is a museum dedicated to the wartime leader.
For a majority of veterans the Soviet leader was a military genius, and questioning his leadership is seen as sacrilegious.
While memories of the battle are still crystal clear among the remaining veterans, attitudes towards the enemy have changed dramatically.
A German symphony orchestra will play memorial concerts this weekend, and the city even has a German-themed beerhall.
- Independent