Are you in Queensland and affected by the floods? Please contact the Herald newsdesk.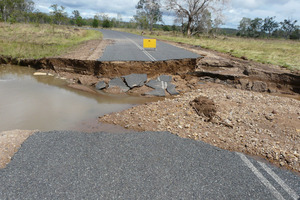 Queensland is in the grip of another extraordinary flood crisis, as cities and towns across the state go under.
The Bremer River has broken its banks at Ipswich and businesses are beginning to flood, Mayor Paul Pisasale says.
"This is the start of our emotional pummelling," Mr Pisasale told AAP on Monday afternoon.
He said there was already water through one carpet business in the CBD and evacuations had started.
He said about 350 properties were expected to flood as the river heads towards the first of a number of peaks.
A 15-metre flood peak is expected in Ipswich about 6pm (AEST) on Monday night.
Mr Pisasale said residents, still traumatised by the 2011 flood, were leaving their homes even when they did not need to.
The city was not expected to experience the damage that happened two years ago.
"We are a city in very emotional stress at the moment," he said.
"We'll survive, but I tell you what, it does get to you."
Emergency lines subdued by flooding
Telstra has sent technicians in helicopters into central and northern Queensland to repair damage to networks that has knocked out the emergency triple zero service in some areas.
The fibre optic cable that carries much of the state's communications was damaged on Friday night by severe flooding north of Bundaberg, where the city's worst flood on record has left dozens of people trapped on rooftops.
A backup cable near Kingaroy, north west of Brisbane, was also damaged late on Sunday.
Temporary numbers have been established so people can contact emergency services in affected areas.
Telstra crews have been flown by helicopter to Kingaroy and Colosseum but services are not expected to be restored until this afternoon at the earliest.
Crisis developing
At least 1200 Bundaberg properties are already flooded, and there are fears that could reach 2000.
The communities of Gympie and Maryborough are also flooding.
There is also a major flood crisis developing in the Lockyer Valley, where 19 lives were lost in the state's 2011 floods.
Brisbane and Ipswich are bracing for flooding expected on Monday night, with further flood peaks expected on Tuesday and Wednesday.
So far, three flood deaths have been confirmed:
- An 81-year-old man whose body was pulled from the water near Bundaberg
- A 27-year-old man who tried to cross a flooded creek near Gympie
- A man whose body was found in the Oxley Creek south of Brisbane.
In Bundaberg, entire suburbs have been evacuated but some people waited too long and about 30 are stranded on rooftops in atrocious conditions that are preventing rescuers from reaching them.
The situation in the city is now so bad that police are advising people trapped in homes in north Bundaberg to seek refuge on the roof.
"If your house is currently inundated with water and you require rescuing, you are either to make your way to the roof if safe - I repeat - if safe," Senior Sergeant Grant Marcus said in an urgent public alert issued on Monday morning.
"Alternatively find a way by which you can hail rescue helicopters which are currently hovering over your area."
Choppers with winching gear are battling to get to those already on the rooftops.
At Ipswich, west of Brisbane, flooding is predicted from late on Monday, but it's not expected to be anything like what was seen in 2011 when 600 homes flooded.
That's also true for Brisbane, where a minor flood is expected, affecting about 5000 homes and businesses.
Two evacuation centres have opened in Ipswich, with the Bremer River now expected to peak at 15 metres - a metre beyond what was expected just a day ago.
"We're doing everything we can," an emotional Ipswich Mayor Paul Pisasale told ABC radio on Monday.
"We've got a lead time until midnight tonight so it'll be all hands on deck to help those people," he said, his voice breaking.
"From an emotional point of view it's going to be most horrendous for me. I'll have to get in counsellors for those people who have just been kicked in the guts again."
Brisbane Lord Mayor Graham Quirk says the city is in for a very difficult few days, but it isn't going to be as bad as 2011.
About 3600 residential properties and 1250 businesses are expected to experience some flooding.
Two flood peaks are expected, the first from late on Monday at Ipswich and the western Brisbane suburb of Moggill.
"We're going to see it then through Jindalee and along the river system, peaking at the city by noon on Tuesday," Mr Quirk said.
"Then as the tide goes down that will be relief. But then it will come again, peaking again in the city at lunch time on Wednesday."
The premier says people should remain calm and prepare if they are in areas marked as at risk of flooding in maps prepared by the Ipswich and Brisbane councils.
"It is a significant event. This is a big challenge for our community but we are up to it. We did it in 2011 and we will do it again," Mr Newman said.
New South Wales braced for a battering
About 2000 people have been cut off by floodwaters and emergency services have performed 12 rescues, as destructive winds and rain hit northern New South Wales and move slowly south.
Severe weather warnings have been issued for much of NSW as ex-tropical cyclone Oswald moves slowly across the Queensland border, ushering in winds of up to 140km/h.
People in Sydney, the Illawarra, the Northern Rivers, the mid-north coast, the Hunter and the northern and central tablelands are all being warned to prepare for heavy rain that may lead to flash flooding, with the Hopkins Creek weather station near Mullumbimby on the far north coast recording almost 540mm of rain in the last 24-hours until 9am(AEDT).
Bureau of Meteorology (BoM) NSW forecaster Mohammed Nabi says the wild weather is expected to reach east of Moree on Monday afternoon, and west of Armidale on Monday night.
He says the low-pressure system, which has lost its structure since being a Category 1 cyclone, is dragging up a lot of moisture from the Tasman Sea.
"It's dumping that over coastal areas," he told AAP on Monday.
As it moves south, he says Sydney and Newcastle will probably start seeing the worst of it on late Monday evening with winds forecast to reach up to 100km/h and downpours of up to 200mm.
"For us down here (in Sydney) the worst is yet to come, while people in the Northern Rivers are going through it right now."
Across northern NSW almost 2000 people have been isolated by flood waters, with around 850 people cut off at Ewingar west of Lismore and 400 at Darkwood on the mid north coast.
NSW State Emergency Service (SES) Commissioner Murray Kear says the number of people affected will increase throughout the day as rivers rise.
Meanwhile the SES is continuing to warn people to stay away from floodwaters, with emergency services so far carrying out 12 rescues and responding to almost 900 emergency calls.
"Never drive through floodwaters," he told Network Seven.
At Kyogle, a number of caravans from the Kyogle Caravan Park have been moved to higher ground.
At Bellingen, Lavenders Bridge has been closed due to rising floodwater, cutting the township in half while the Pacific Highway has been closed in both directions just south of Grafton.
- AAP