Not innocent enough despite eight years' jail on quashed conviction.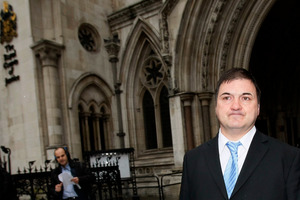 Barry George, who spent eight years in prison after being wrongly convicted of BBC presenter Jill Dando's murder, had his claim for compensation thrown out on Friday.
Judges ruled that his conviction, later overturned in a retrial, did not amount to a "miscarriage of justice".
Lawyers for the 52-year-old, who would gain up to £500,000 ($943,000) if his claim was successful, argued the Justice Secretary illegally withheld the payment after his conviction was quashed in 2007 by effectively suggesting that George was "not innocent enough" to be compensated.
But a panel of High Court judges rejected the claims of George and three other men whose convictions had been quashed. They were part of a test case to decide when a victim of a wrongful conviction can be declared innocent.
One of the five claimants, Ian Lawless, who spent eight years in jail for a murder he did not commit, won his case and was granted permission to have his claim reconsidered.
Nicholas Baird, the solicitor for George, said he and his family were "terribly disappointed" at the finding and would continue their fight for redress from the Government.
George, who has been diagnosed with Asperger's syndrome, is seeking damages for lost earnings and wrongful imprisonment following his conviction of the murder in 1999 of Dando, who was shot dead on the doorstep of her home in Fulham, west London. The Court of Appeal overturned the conviction after doubt was cast on crucial evidence of a "firearms discharge" particle found in a pocket of a coat George wore. When he was acquitted in a retrial, prosecutors said he had "the right to be regarded as innocent".
The test case followed a landmark Supreme Court decision in 2011 which found the "mere quashing" of a conviction could not be an automatic "trigger for compensation".
The ruling by nine judges set a new test for a miscarriage of justice that required damages should only be paid if a person could prove there were no circumstances that could have led to a jury conviction.
In a judgment that raises the question of a distinction in the judicial system between acquittal and a declaration of innocence, Lord Justice Beatson and Mr Justice Irwin said: "There was indeed a case upon which a reasonable jury, properly directed, could have convicted the claimant of murder."
Legal experts said it was about "shutting down" the flow of compensation.
- Independent