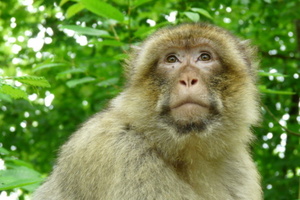 The Iranian Space Agency says it is going to launch a monkey into space.
The head of the agency, Hamid Fazeli told the state's Mehr News agency the mission is preparation for manned space missions in the future.
"Testing phase of these living capsules has ended and monkeys to be sent to space are now in quarantine," Fazeli said. "These monkeys will be sent into space according to a timetable on Fajr Ceremonies."
The Fajr Ceremonies are a 10-day period at the beginning of February, commemorating the anniversary of Iran's 1979 Islamic Revolution.
"The capsule is called 'Pishgam' (pioneer), launching human is future program of the agency, which would be possible within five and eight years," Fazeli said.
"Positioning the weight vibrations and other conditions conducive to human presence in space is investigated through this life capsule. Monkeys have similarities to humans, so with them in space, we can examine human factors in space."
A previous attempt to fire a rhesus monkey into orbit in 2011 reported failed, but the Islamic Republic has succeeded in sending a rat, two turtles and a worm into space in 2010, Live Science reports.
Iran sent its first domestically built satellite into space in 2009.
Both the United States and the Soviet Union sent animals into orbit during the early years of the Space Race, to test the safety and feasibility of send humans into space.
- www.nzherald.co.nz