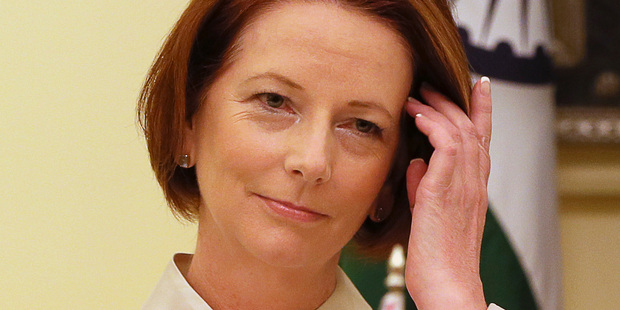 Australian Prime Minister Julia Gillard and her minority Labor Government continue to climb back from the brink as voters turn against the litany of doom preached by Opposition leader Tony Abbott.
Two new polls have placed Labor within grasp of winning the next election despite a series of blows and continued rumblings among supporters of Gillard's ousted predecessor, Kevin Rudd.
A Newspoll in the Australian yesterday placed Labor and the Opposition at 50-50 in the two party preferred vote, following a three-point rise to 36 per cent in the party's primary vote. The Coalition's primary vote slipped four points to 41 per cent.
Gillard also widened her lead as preferred prime minister, jumping two points to 45 per cent against Abbott's 34 per cent.
The latest Morgan poll showed Labor leading the Opposition 50.5 per cent to 49.5 per cent.
The boost comes after a testing time for Gillard. Deep spending cuts were announced in last week's mini-budget as the nation's economic outlook became more clouded, with Treasurer Wayne Swan pruning his already-small surplus.
A further blow was dealt by a police raid on MP Craig Thomson's house and speculation that charges may follow over alleged misuse of funds when he was secretary of the Health Services Union.
Gillard was also accused in a new book of deeper involvement in the ousting of Rudd than she has admitted, continuing speculation of a possible challenge.
But Gillard has also had some strong wins: her attack on Abbott's "sexism" and the resulting gender war that swung Labor's way, Australia's seat on the United Nations Security Council, and the weakening of Abbott's main lines of attack.
Although still bouncing, the polls have shown a shift towards Labor that Gillard will use to both bolster her own position and strengthen the Government before next year's election.