Romney's Republican-rousing first-up performance has put real pressure on Obama to come out swinging.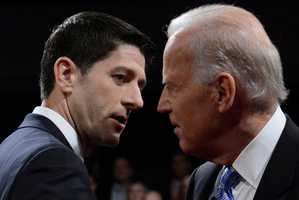 It's not exaggerating to say that Wednesday's second debate could tip the balance of the US presidential election.
After months of lagging behind, Mitt Romney grabbed the opening his rival gave him in the first debate to take a very narrow lead in the national polls for the first time. He has also sucked up President Barack Obama's softer support in several swing states and has - at least temporarily - gained an edge in Florida and Colorado.
The Republican has had a very good week and a half and has been rewarded with larger and newly enthused crowds. His debate success has given his campaign a fresh sheen of competence after weeks of mediocrity. Another strong debate win, and Obama failure, could provide a winning surge to the line.
While it's tempting to already dangle a big label with the word "momentum" around Team Romney, it would be premature.
First, his national average lead - 1.3 points on RealClearPolitics.com yesterday - is within the margin of error.
Secondly, Obama still maintains a winning lead - about 50 - in the Electoral College with most of the battleground states in his column, although Virginia and New Hampshire are under siege.
Thirdly, the impact - if any - of last Friday's vice-presidential debate has yet to surface in polling data. Although a debate between the also-rans on the tickets is unlikely to shift many votes, Joe Biden was able to powerfully rehearse effective arguments for his boss.
Also, the small signs of economic recovery lately and Obama's competitive fundraising ability - a US$181 million ($222 million) haul in September - are background factors which help the Democrat.
Obama should be itching to make up for his display in the first debate. There wasn't a lot wrong with the substance of what he said but he failed to attack his opponent effectively, with no mention of Romney's "47 per cent" gaffe.
Most dangerously, Obama allowed Romney to dominate him.
The Republican - with a persistent urgency and Reaganesque rasp - confidently looked the part.
But the President seemed to barely flicker on the male energy radar in the room.
The incumbency is a powerful tool but there needs to be some solidity for it to work its magic against a challenger, not an empty, flapping suit. Romney gave the presidential edifice a shake and it sounded rather hollow.
Obama needs to seem engaged, sharp and authoritative on Wednesday and has to damage his opponent. It will be a difficult task under the town hall format where the candidates interact with the audience as well as each other.
Biden showed on Friday how it needed to be done, though in a more blunt and rough fashion. He hammered away at Republican claims to have plans that will benefit the majority of Americans. He tied the Romney ticket to the unpopular Congress and unpopular Bush era.
Paul Ryan sounded competent when he loosed some well-rehearsed lines. But the old bull made him seem a green, bloodless theorist behind the pretty exterior.
The Republicans have been spinning furiously that Biden's theatrical delivery for most of the debate will have turned off independents but tactically the Vice-President's "can you believe these guys" incredulity was spot-on in trying to reach blue-collar voters in the likes of Ohio and Michigan.
He was a good warm-up act but the only person who can do the job for Obama is the man himself.
Another Romney debate win would really see the Republican gain momentum.