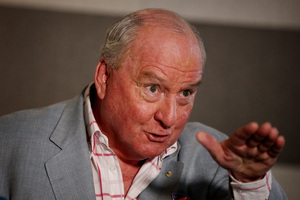 The Macquarie Radio Network has announced that it will be temporarily suspending all advertising on Australian Alan Jones' 2GB breakfast show.
The move follows comments made by Mr Jones in which he said Australian Prime Minister Julia Gillard's father "died of shame".
The network's Executive Chairman Russell Tate said the reaction to Jones' remarks had forced it to "call time out'' for advertisers.
"The nature, tone and volume of the reaction to Jones' remarks, and in particular the threats being made through social media to companies advertising in Jones' program and the disruption being caused to their businesses, have made it necessary for MRN to call some 'time out','' he said in a statement.
"There is almost universal agreement that Jones' remarks were unacceptable, wrong and inexcusable.''
He noted the influential shock jock had immediately arranged a press conference to publicly apologise to Ms Gillard last Sunday, and made a further "unambiguous and unconditional'' apology on air last Tuesday.
"Although the remarks were not made on 2GB, our position from the outset has been that a personal, unconditional apology was a necessary and appropriate response,'' he said.
Mr Tate said while Jones' audience had found his remarks "unacceptable'', there was no indication from his regular listeners "that their attitudes towards companies advertising in the program has changed adversely''.
-AAP