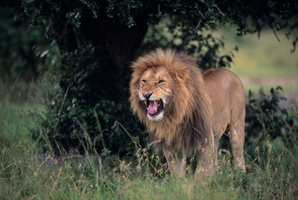 A lion has been spotted in Essex. Photo/ Thinkstock
Campers have described the moment they came face to face with a lion on the loose in a village in the east of England.
Two police helicopters and armed officers are trying to track down the large cat, which was seen in fields off Earls Hall Drive in St Osyth, near Clacton, just before 7pm Sunday British Summer Time (6am today NZT).
Essex police are advising people in the village, which is a popular seaside summer destination, to stay indoors.
Colchester Zoo experts have been shown a photograph taken by a member of the public and believe the loose big cat is a lion.
Police do not yet know where the lion came from. Colchester Zoo said all three of their lions are accounted for.
At least one circus has toured the region recently, with the Great British Circus performing at the Clacton Airfield up until August 8.
Brenda Lord, of Earls Hall Farm, St Osyth, told The Guardian several people staying in caravans at her farm had seen the lion, and at least one person had taken a photo.
Rich Baker, 39, was walking with his two boys, aged nine and 11 when a man came running towards them yelling, "it's a ****** lion".
"He looked so panicked you knew it was not a joke," he told The Daily Mail.
"The lion was in the middle of the field with its back towards me. When someone else screamed it turned around and you could see it from the side.
"I grabbed my children's hands and we ran towards our caravan. My children started to scream, 'daddy, is the lion going to get us?'"
Mr Baker was convinced it was a lion, describing it as "a tan colour with a big mane, it was fully grown".
"It was just standing there, it seemed to be enjoying itself."
A local resident, Che Kevlin, told the BBC he heard what sounded like the roar of a lion about 10pm BST.
"It was worrying as we had just been for a walk with the dog," Mr Kelvin said.
"We saw the police helicopter but thought it was just searching for a person.
"It sounded like the roar of a lion. We have field and wood just behind our fence, so you never know."
Essex Police said on Twitter they are working with experts from Colchester Zoo who can tranquilise the animal when it is found.
- Herald Online