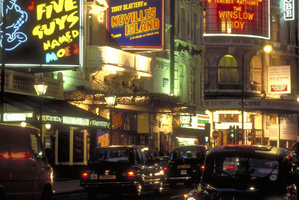 London's West End is one of the most famous areas for shopping, dining and entertainment in the world.
While business is booming just across town in Stratford, the Olympic effect is causing worry in the centre of the capital: theatres, shops and bars all say trade has dramatically fallen because scare-mongering about transport difficulties has driven away tourists as well as locals.
Shopping footfall fell about 11 per cent last weekend, restaurants complain turnover is down by up to 60 per cent and box-office takings are expected to fall by up to a third.
Repeated official warnings of chaos in the city centre and hotels hiking their rates are being blamed for deterring people from visiting London.
The West End's travails will be embarrassing for London Mayor Boris Johnson, who has recorded personal messages for buses urging people to be careful about travelling in London.
Prime Minister David Cameron has claimed the Games could boost British trade by £13 billion ($25 billion) in the long term, and the Treasury hopes the current quarter's growth figures will receive an Olympic fillip.
The Games were predicted to bring in vast numbers of visitors, but although 100,000 people have arrived from overseas, that is just a third of the 300,000 expected in a typical year.
The number of people going to stores on Saturday before the opening ceremony was 10.4 per cent lower than a year ago, said research group Experian. It said customer footfall levels were 11.7 per cent down last Sunday, when the men's cycling road race started and finished on The Mall in central London.
Some shops and restaurants in Soho were unusually quiet yesterday.
Ned Clark, 27, who runs The Bratwurst food shop, said: "People seem to have stayed away because they expect it to be busy. We have had a really quiet week so far and the weekend was the same."
At the Raj Tandoori restaurant, owner Abu Khalique, 53, said: "Even our regular customers have stopped coming. We thought it would be a very busy period: we ordered extra stock, we cancelled all holiday. I am just hoping that people will realise it is not as crowded as they thought."
The normally packed Arbutus restaurant in Soho had just 20 customers for lunch. Its sister restaurant Les Deux Salons in Covent Garden had its quietest weekend on record.
The Earl of Bradford, owner of Porters restaurant in Covent Garden, said his takings had been just £1600 last Saturday, down by more than £4000 on the same day last year.
Traders attributed the quiet to office workers staying at home and Olympics visitors not venturing far beyond Stratford. The Association of Leading Visitor Attractions reported a fall of 30 per cent in attendance over the past two weeks compared with last year. Nick Palan, managing director for a tour bus company, Golden Tours, said: "It has totally destroyed the market for us this summer."
Westfield in Stratford - the gateway to the Olympic Park - is buzzing, with most describing their shops and restaurants as "manic".
Nica Burns, chief executive of Nimax Theatres, which includes the Apollo, Lyric and the Garrick in London, said: "We will do anything to sell tickets. This is a chance for people to pick up top-price tickets much more cheaply." But she insisted that, overall, the Games were worth it. "The Olympics has been great for the spirit of the country and very unifying."
Mark Rubinstein, president of the Society of London Theatre, said it was not all doom and gloom. "There is a really mixed picture. Some of the bigger shows are doing well; others are finding it more challenging."
Evidence from previous Olympiads, notably in Athens and Sydney, predicts exactly the outcome that London is experiencing: despite initial optimism, there is a sharp fall in total visitors - and, with the exception of hotels block-booked by organisers - a profusion of empty beds and rates below those of a normal summer.
- Independent