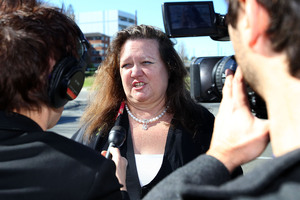 Mining magnate Gina Rinehart has been ordered to pay the legal costs of three of her children who are seeking to oust her as trustee of the multibillion dollar family trust.
In a NSW Court of Appeal judgment handed down yesterday, Australia's richest person was also ordered to pay the costs of several media companies who intervened in the case, including the ABC, Fairfax Media, Nine Network and Nationwide News.
Last September, John Hancock, Bianca Rinehart and Hope Welker launched the proceedings against their mother in a bid to remove her as trustee of the family trust.
They claim she acted with "gross dishonesty" and "deceitfully" in her dealings with the trust, set up in 1988 by her father Lang Hancock, with her children being the beneficiaries.
Rinehart is supported by her youngest daughter, Ginia, in the battle.
Rinehart and Ginia Rinehart were ordered to pay the costs the three children incurred when opposing the unsuccessful application to stay an earlier court decision.
In the Court of Appeal last December, Justice Margaret Beazley stayed a decision overturning suppression orders on details of the case while Rinehart sought leave to appeal to the High Court.
On January 13, the Court of Appeal concluded that the stay should not be granted, although they allowed a short stay until February 3 because several legal representatives were on holiday.
The media companies had also sought the costs of their application opposing the suppression orders.
Ginia Rinehart did not oppose paying costs.
The matter is due to return to the Supreme Court in September.
- AAP